Schick gives consumers the 'License to Grow'
A Facebook initiative invites guys to download a license to grow a moustache in support of Movember.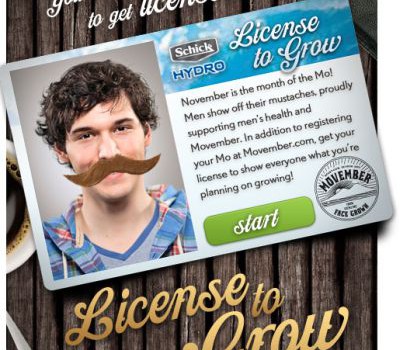 One would think that a month dedicated to growing facial hair would make a bit of dent in the razor business, but Paul Reed, brand manager, Schick Hydro, tells MiC that this is simply not the case.
In fact a moustache requires a very detailed shave, he says, and for those who want to show that they're qualified to wear the upper lip strip can download a "License to Grow" from Schick's Facebook page.
For the Energizer Canada brand's second year partnering with Movember, Schick worked with agency 6degrees to create a Facebook tab that invites consumers to upload their photograph and download the license.
This is a slight step up from last year's activation which involved a Schick MoPic microsite that encouraged users to upload their photograph and play around with different moustache styles.
Reed says that the brand wanted to provide those who don't necessarily have the best moustache-growing skills the chance to be included, by giving them a license that says they can.
To promote the sponsorship activation, Schick has placed ads on its website and will be reaching out to consumers through its social media channels as well as providing information on flyers in Shoppers Drug Mart stores.
"It's a great cause and a fun activation that has gained a lot of awareness in Canada over the last few years. And it's a great fit for the product," he says.