Homemakers closes its doors
The Transcontinental Media title shuts down after 45 years in print.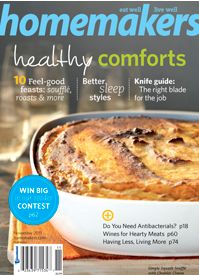 Transcontinental Media has announced the closure of Homemakers magazine. The women's title started as a free shopping guide and was converted to a subscriber-based magazine with the tagline "Eat Well/Live Well."
"While this positioning has resonated well with readers, market conditions have made it increasingly challenging to maintain the current business model", explained Pierre Marcoux, senior VP, business and consumer solutions group at Transcontinental Media, in a release. "After studying several scenarios, we have decided to focus our efforts on developing our core multi-platform brands while pursuing new, innovative publishing initiatives."
The final issue of Homemakers will be its 2011 Holiday issue. According to a Transcontinental Media press release citing PMB Fall 2011 numbers, the magazine had 1.4 million readers per issue.