McCain opens a casting call for Being Erica
The brand partners its pizza with CBC in search of a 25- to 40-year-old urban female to appear on the show.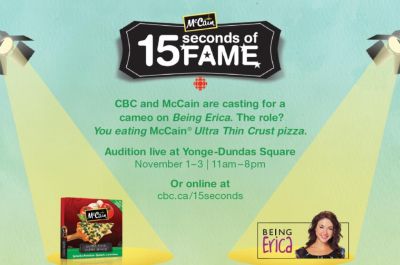 Traditional sampling is so passé. Even though, for McCain Foods, giving out free products in hopes of a repeat purchase works for the brand, Paul Gallagher, director of marketing, tells MiC that it wanted to shake the process up a bit by giving consumers a unique tasting event.
The "15 Seconds of Fame" audition program, where consumers can try out for a cameo spot on CBC's Being Erica by eating McCain's Ultra Thin Crust pizza for 15 seconds on camera, was born from the need to get its pizza in the mouths of consumers, he says.
Created by Taxi with media planning by AOR Media, the program will be promoted through TV spots on CBC, online banner ads, OOH digital boards in locations near to where the auditions will take place as well as print ads in local newspapers in Toronto and Vancouver.
"In other promotions you might give a prize or a trip or cash. But, we're offering a highly unique experience," says Gallagher. "There are people who like to be in the spotlight. I think that is something very appealing for a lot of people."
On-site auditions will take place in Toronto at Yonge-Dundas Square from Nov. 1 to 3 and in Vancouver from Nov. 17 to 19. Consumers can also audition for the role by uploading a 15-second video of them eating the pizza to the contest microsite.
The campaign, from the CBC agreement down to the experiential component, ran up an estimated cost of over $1.5 million, says Gallagher.
It's also being recreated in Quebec, where consumers are invited to audition for a walk-on cameo role on Radio-Canada's show, Mauvais karma.