Subaru struts its stuff
The Japanese car brand launches a Canadian campaign that kicks off its new global platform of "Confidence in Motion."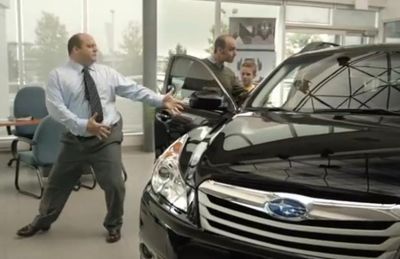 Subaru is showing off its self-assured swagger in a new TV spot with a tagline that calls for "Confidence in Motion."
Developed by DDB Canada with media planned by OMD, the 30- and 60-second commercials are part of the brand's new global platform, Michael Davidson, senior VP, business unit director, DDB Canada, tells MiC.
"[Subaru] was looking at a global position that would link most of the countries together," he says. "And they asked us to be the first country to kick it off, because we have been so successful in the marketplace."
Creative in the TV ads shows the confident strut of Subaru car designers, engineers, dealers and even the family that decides to purchase the car, and will be run on major networks in Canada including CTV, CBC and The Score. Starting this week, there will also be ads in publications such as the Globe and Mail and the National Post, as well as online on sites including AutoEvolution.com, Wheelomania.com and RightDrive.ca.
"The fundamental idea of 'Confidence in Motion' globally is that Subaru inspires confidence, and we found the right tone and personality to express that in this market," says Davidson.
Before the Japanese car brand launched its "Think. Feel. Drive" platform, consumers had heard of Subaru but weren't really sure if the cars were right for them, says Davidson. So the brand's focus at that point was to change perceptions, get people more familiar with the cars and hopefully increase the purchase consideration, he adds.
"We shifted the strategy from people who were looking for all-wheel drive cars to people who are looking for Japanese cars," he says. "And over four years, we more than tripled market share and doubled sales."
Davidson explains that in order for the brand to stand out in the market when it only has a 1% share of voice, it needs to compete by grabbing consumers' attention with bold and provocative advertising. The brand has become known for stand-out spots that feature everything from sexy sumo wrestlers to a disrupted Snuggie commercial.
"We're competing against big companies like Toyota and Honda. So, we need to do it in a way that has people noticing us," says Davidson. "We're not trying to sell our cars in the ads, we're trying to get people's attention and give them a reason to go into a dealership or go online and then they can figure out what the value is in these cars."