Travel+Escape launches with Thomas Cook
The travel sales company's partnership with the channel's relaunch also marks its re-entrance into the Canadian market.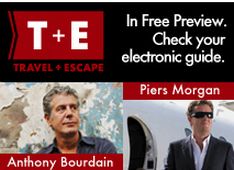 GlassBOX has announced that the launch partner for today's relaunch of  the Travel+Escape channel is travel sales company ThomasCook.ca.
The revamped channel, which was formerly owned by CTV, is taking a more lifestyle-oriented twist under GlassBOX, with shows like Piers Morgan On…, Ghost Adventures and Chefs Run Wild.
The timing of the partnership with Thomas Cook works well for both parties, Jennifer Mason, director, marketing communications and on-air, GlassBOX tells MiC, because ThomasCook.ca is also currently in the process of expanding into the Canadian market through the rebranding of its Belair outlets.
The launch sponsorship deal includes a travel giveaway with ThomasCook.ca, as well as on-air and digital spots across the Travel+Escape properties, says Stuart Morris, SVP, ecommerce at ThomasCook.ca.
Both the channel and ThomasCook.ca are targeting adults 25 to 54, with a launch promotion around the channel planned for the next two months when it's free to 8.8 million Canadian households. The channel is available across all major cable carriers and suppliers.
The launch campaign includes buying US ad avails, which will run from Nov. 7 to Jan. 31 and a full-page print ad in Cottage Life magazine.