Yahoo! Divertissement launches in Quebec
The French entertainment site with a local perspective has ad opps available.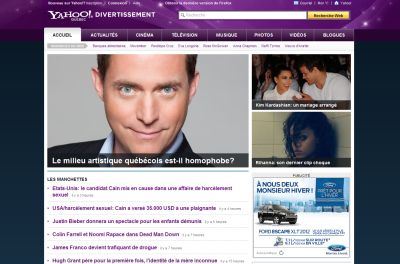 Yahoo! Canada is expanding its online fleet with a newly launched Quebec entertainment website, Yahoo! Divertissement.
From celebrity and fashion news to reviews on movies, music and television, the site promises to provide coverage of the entertainment industry aimed at Quebec women aged 25 to 44.
It's a local point of view that Gina Cothey, head of the Yahoo! Media network in Canada, tells MiC will give Quebecers a reason to visit the site.
"There is no doubt that there is a powerful attraction from Canadians toward entertainment and celebrity news, and Yahoo! Canada has made aggressive inroads in this area," says Cothey. "The attraction is true for Quebecers as well, who are not only eager to learn the latest celebrity gossip from Hollywood but also to embrace the local cultural scene."
"Canada is a huge priority for [Yahoo!] and we are doubling down on creating content for specific audiences, and building out our key verticals," she says. "We're building out our media brands and creating compelling content with a unique local voice and focus."
Advertising opportunities on the site include standard and rich ad units, homepage and section takeovers, as well as seasonal and event-based sponsorships.