Bell Bundle tops the radio airtime charts: Media Monitors, Oct. 24 to 30
The Government of Canada claimed the highest radio purchase in Montreal.
Cable and mobile package service, Bell Bundle, purchased the most radio airtime in Toronto for the week of Oct. 24 to 30, according to Media Monitors' latest report.
The previous week's top buyer, Government of Canada, moved down a place to #2 on the list and CIBC remained in the #3 spot. Big jumps on the list in the Toronto region include Rogers Wireless which moved up from #28 to #5, and Ontario Toyota Dealers moved up from #39 to #9.
Government of Canada shifted up a spot in Montreal to #1, while Sears moved up from #4 to #2 and HBO Canada sat steady at #3. Corbeil Appliances entered the chart at #8, and Linen Chest made the most significant jump on the list with a five-place move from #11 to #6.
Toronto
By brand: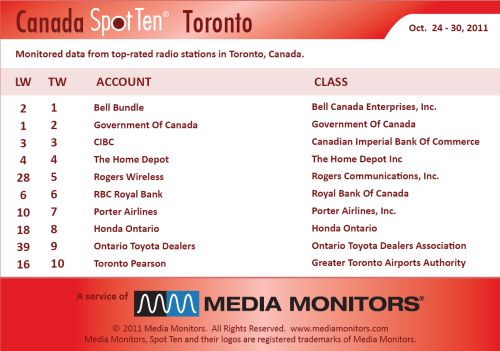 By category: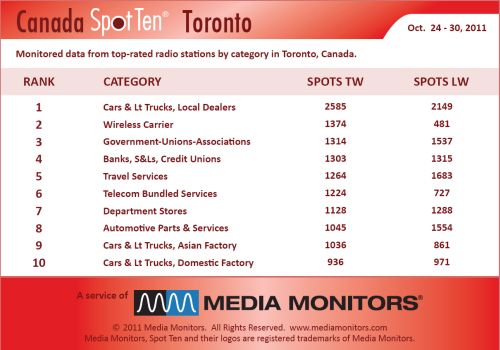 Montreal
By brand: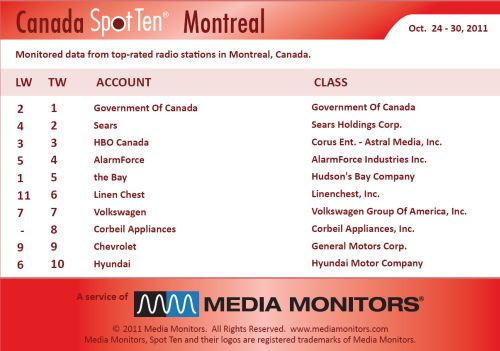 By category: