Future Shop has what you 'Most-Must' want
The company goes heavy into digital with its 2011 holiday campaign.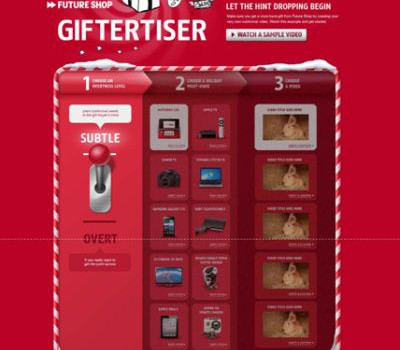 Future Shop is continuing its theme of relieving holiday pressure with its "Holidays' Most-Must Have" campaign.
With media by Media Experts and creative by Cossette, the multi-platform campaign tries to reach the largest amount of people while also connecting with consumers through digital executions including rich media banner ads and the online Giftersiser, Nikki Hellyer, director, Future Shop marketing tells MiC.
The Giftersiser is a customizable online video which allows users to insert, either subliminally or overtly, a gift from Future Shop they want to receive into a regular viral video (i.e. kitten anything) and send it to their generous friends and family members. It will launch later this month and be promoted with ads on Facebook, along with sites like MySpace, Rotten Tomatoes and Toronto.com.
Hellyer says while her team has to be smarter about their holiday planning due to ongoing economic uncertainty, the 2011 buy is bigger than it was in 2010.
The campaign also includes TV ads starting on Nov. 18, targeting a broad audience of 25- to 54-year-olds on programs including Terra Nova, 2 Broke Girls and Modern Family. Radio will also be added in December, along with national newspaper print ads and fliers.