MediaCom wins Media Agency of the Year
Cossette's Terry Horton and Media Experts' Mark Sherman are also honoured with Media Director of the Year titles at strategy's annual awards show.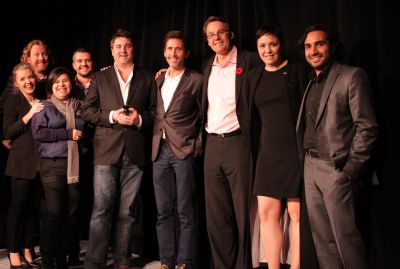 In front of a sold-out crowd at 99 Sudbury on Thursday night, strategy unveiled the creative, digital and media winners of the Agency of the Year Awards.
Media Agency of the Year top honours went to MediaCom. The agency beat out 15 others and impressed the jury with a series of clever television integrations, such as leveraging scripted CTV programming like Desperate Housewives and Grey's Anatomy to create a series of custom spots featuring the actual set designers for Homesense. They also paired Maytag with CBC's Hockey Night in Canada, and H&M with the MuchMusic Video Awards. Click here to read more about the agency's winning year.
Taking the Silver was Media Experts, while Mindshare won Bronze and Starcom MediaVest Group took home the Honourable Mention.
The Media Agency of the Year jury also selected this year's Media Director of the Year, and this year there was a tie – Terry Horton, VP, media director at Cossette Media, is an 18-year industry vet, who has led his office of 50 through a year of growth, including a number of significant new accounts such as the Royal Canadian Mint, Transat and the Telus Media account. And Mark Sherman, founder, owner and executive chairman of Media Experts, celebrates 30 years since founding his shop, and this year proved to be a big one, winning major business like Bell Canada, and unveiling the Xpeto demand side platform, making it the first independent media services firm in Canada to operate its own online media trading desk.
Making appearances at the awards was all of strategy's brands of the year, including representatives from Ikea, Joe Fresh, Videotron, Cadbury, overall winner RBC, and October cover subject UFC champion Georges St-Pierre who flew in for the occasion.
Toronto-based agency BBDO took top honours as Agency of the Year, marking the first time it has won the Gold. Taking the Silver this year was last year's Gold winner, DDB, while Taxi picked up the Bronze. Rounding out the top six were Leo Burnett for Honourable Mention and John St. and Rethink taking Finalist positions.
Proximity nabbed the top Digital Agency of the Year spot out of 11 shortlisted. Silver and Bronze Digital honours went to BBDO and John St. respectively, while Grip Limited and Taxi tied for Honourable Mention.
Read about all the winners at Strategyonline.ca.