The Verdict: Big brothers and sisters come forward
MiC looks at the results of the Big Brothers Big Sisters campaign that called for individuals to become a best bud.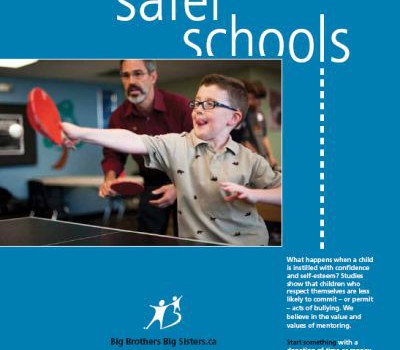 When Big Brothers Big Sisters of Canada (BBBSC) voiced that kids with mentors are less likely to throw punches, more likely to stay in school and come out as generous and positive adults, individuals in the hundreds flocked to the organization's sign-up desk to become a best bud to a Canadian youth.
The print, radio and TV campaign rolled out in cities across Canada and had its sights set on increasing awareness of the importance of youth mentoring and to drive volunteer inquiries and increase funds, Chantel Broten, VP and CSO, JAN Kelley Marketing (the agency that created the campaign) tells MiC.
Another goal in mind for the "Start Something" campaign was to change perceptions of BBBSC, she says. In past years, the general view was that having an older youth spend time with a child would benefit them on an individual level, but not necessarily have impact on the community and society as a whole.
The creative was simple and clear-cut with empowering copy such as, "Kids who have a Big Brother or Big Sister get along better with their peers and teachers and are significantly less likely to commit or permit acts of bullying."
By shifting the organization's messaging to show how youth marketing can have a positive ripple effect, it managed to increase average volunteer numbers by 37%. Specifically in Vancouver, volunteer inquiries almost doubled from 180 last year to 342 during the same period this year.
What's more, the Big Sisters of BC Lower Mainland in Vancouver used the campaign messaging at its annual gala and managed to increase donations from the $125,000 lump sum accrued last year to $340,000 this year. The Toronto agency, Big Brothers Big Sisters of Peel also saw an uptake in volunteers (32%).
"This far exceeded our expectations, especially given the challenges recruiting volunteers in today's world," says Kelley.
"Our plan is that, over time, this campaign be actively adopted by local BBBS agencies across the country," she adds. "This really is a brand that is built at a local level.  At the same time, there is power in building one unified, strong national brand to support the cause of youth mentoring."