Arctic Air and Mr. D topline the CBC's winter 2012 primetime lineup
Other new shows on the pubcaster include Redemption Inc. and Sunshine Sketches of a Little Town.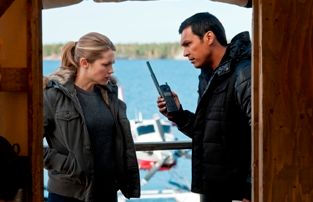 The CBC on Thursday unveiled its winter 2012 schedule, led by the Adam Beach-starring drama Arctic Air (pictured) on Tuesdays, and the new sitcom Mr. D on Monday nights.
Beach will play Bobby Martel, one of a group of renegade pilots based in Yellowknife, in the one-hour drama on Tuesdays at 9 p.m.
And Canadian comic Gerry Dee plays a Toronto private school teacher who gives lessons on subjects he knows nothing about in Mr. D.
The new sitcom will air on Mondays at 8 p.m., just ahead of the returning Little Mosque on the Prairie at 8:30 p.m., to be followed by another new show, Redemption Inc., which gives ex-cons a second chance in business and stars Kevin O'Leary.
There's also TV movies and miniseries like 8th Fire, a four-part journey through Aboriginal Canada, The Wrath of Grapes: Keep Your Head Up, Kid – Part 2, the sequel to Keep Your Head Up, Kid: The Don Cherry Story, and Sunshine Sketches of a Little Down, based on the writings of Stephen Leacock, as well as the one-hour show Spelling Night in Canada.
Other returning CBC series include Rick Mercer Report, Dragons' Den and Hockey Night in Canada, and the CBC will continue stripping the American game shows Jeopardy! and Wheel of Fortune nightly in the 7 p.m. to 8 p.m. primetime slot.
Advertising and sponsorship opportunities for the new season are available, according to a CBC representative.
From Playback Daily