University of Toronto sets the bar
With the help of agency JWT, the university launches a five-year campaign with a goal to raise $2 billion.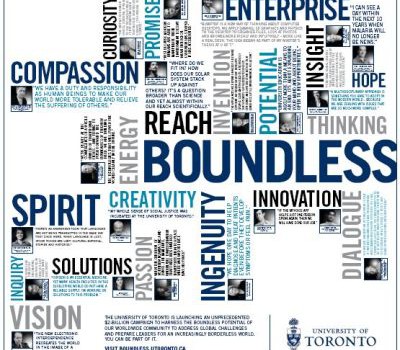 The University of Toronto has set itself a bold goal of $2 billion in a five-year fundraising campaign created by JWT and planned by Starcom Mediavest Group.
In the past, the university would focus its campaigns on demonstrating its regional and national leadership. But for the next half a decade, U of T will be keeping an eye on communicating its global position and ability to compete not only in Canada and North America but also worldwide, Ania Lindenbergs, senior executive director, advancement, communications and marketing, University of Toronto, tells MiC.
A press release issued by the university called the fundraising campaign the largest "in the history of Canadian universities." This week, the University of Western Ontario's fundraising campaign set its 2018 goal at $750 million and the University of British Columbia recently announced that it is looking to raise $1.5 million by 2015.
Just under 1,000 posters as well as print ads in the Globe and Mail, Toronto Star, Toronto Life, Canadian Business and PROFIT magazine, banner ads on various websites including the New York Times and Bloomberg and signage in the Toronto Island Airport have been placed in the first phase of the "Boundless" campaign, says Lindenbergs.
The creative is simple, with statements made by alumni, faculty and students addressing global challenges and demonstrating that their ideas are boundless in a borderless world.
"[JWT] worked to drill down below the obvious and come up with something that not only did a great job of capturing the essence of the institution and resonate with the diverse target group but also feel fresh," says David Gibb, executive VP and managing director, JWT.
A promotional video for the campaign was made and can be viewed on the dedicated "Boundless" website.