Huffington Post Canada styles with city dwellers
Its new "Citizen Style" section has ad and sponsorship opps available.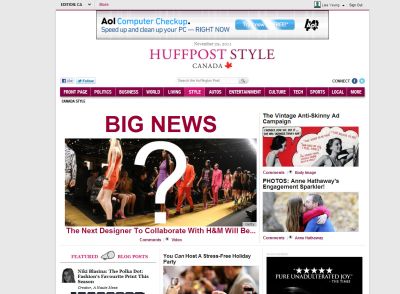 The Huffington Post Canada is launching a new style section entitled "Citizen Style," and will launch on Dec. 8 with content from witty and stylish readers and fashion bloggers.
"[The new feature] is going to be a unique take on fashion, something that hasn't existed on Huffington Post in Canada before," Sarah Kelsey, style editor, Huffington Post Canada, tells MiC.
"It's going to be showcasing everything that is happening from Vancouver to Halifax and all the little towns and cities in between to show what Canada has to offer in fashion," she says.
To get the ball rolling, Huff Post Canada posted news of the section yesterday with details on how interested readers and bloggers can get involved. Until Dec. 2, the site is accepting images taken of stylish citizens on the streets of Canada with their accompanying musings on the fashion attempts and wins.
Kelsey says that the site is looking to make the new style feature as interactive as possible, so it will be accepting anything from tweets to blog posts and videos.
"We have so many readers who have a unique take on what style means to them," she says. "We wanted to showcase that … with edgy content mixed with interactive features and a little bit of celeb inspiration."
Since its launch in May, Huffington Post Canada has received a monthly unique visitor rate of two million, says Kelsey.
According to Lisa Yeung, managing editor of the site, there are sponsorship opportunities available for the launch, including 100% share of voice and AOL premium ad formats.
"Our readers are loyal – they consume content regularly and frequently through several digital platforms," says Yeung. "They're active participants in a constant conversation that they're sharing with their networks. This provides advertisers with ample opportunities to give their brands some extensive exposure."