Halo celebrates in 3D
Microsoft partners with SAY Media on an online anniversary campaign that brings a real-life feel to the science-fiction game.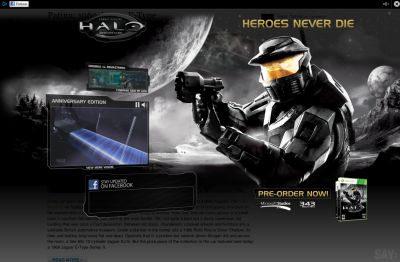 SAY Media has taken the novelty of 3D viewing to a new level with an online ad  campaign for science fiction video game Halo's 10-year anniversary and latest release.
3D ads will run across the mediaco's network and will showcase versions of the game before and after effects were added (original vs. remastered). The campaign will also preview videos of the new Microsoft Xbox game and give buyers the ability to share the features on social media networks.
The launch of the 3D ad unit sits on the goal of driving awareness and excitement for the launch of Halo: Combat Evolved Anniversary and Paul Cassar, vice president, SAY Media tells MiC that the interactive features of the ad and the graphically-strong game go hand-in-hand.
"There are enhanced graphics and features [in the new game], and that is why this partnership works so well," he says. "It has a full screen with a rich experience, and the way the ad moves gives a 3D effect which is a first for online in Canada."
Heather Loosemore, digital director, Starcom Media Group says that Microsoft decided to focus on a digital buy in addition to a TV sponsorship with Bell Media's specialty channel, Space.
"We created the deep immersive content experience to really amplify and embody the Xbox gaming experience," she says. "In addition to that, we really wanted to drive the connection between content and commerce so a lot of the impact pieces will carry a drive-to-retail component."