Benefit Cosmetics mixes it up
The beauty brand launches a poster campaign with an added gifting twist.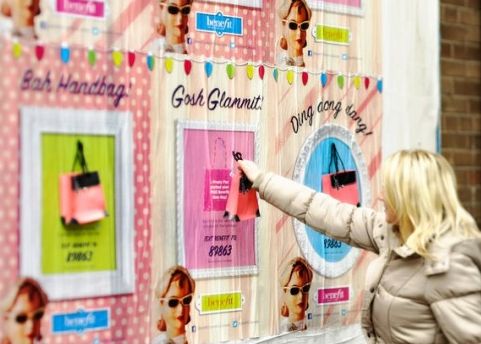 For some observant ladies, Christmas came a little early this year.
Those with a good eye and the stealth of a sniper will have seen (and if quick enough, most likely grabbed at) the dozens of Benefit Cosmetics posters and Glam Bags filled with complimentary products that have lined the streets of Toronto and Vancouver.
Toronto-based agency Espresso is the creative brains behind the holiday promotion, which was implemented to drive consumers to the beauty brand's Facebook page. The posters also contain a number for consumers to text to qualify for more prizes.
Also in an effort to get consumers to sample Benefit Cosmetics products, the brand will have distributed 865 full-sized products and 3,000 sample-size products by the end of this weekend, through the Glam Bags (which were re-filled every so often during the day) and the Glam street teams that will be roaming the streets this weekend, Jacquelyn Cyr, CEO, Espresso, tells MiC.
"This is not just a typical poster campaign or a typical street team," she adds. "Benefit Cosmetics has this whole cheeky and charming approach in how they go to market. You see it in their packaging and in their overall branding. They're not a typical company and it was important for that to come across."
This coming weekend, washroom mirror ads with a cheeky message driving the viewer to join in the texting component of the campaign will be placed by AdMirrors in restobars, and samples will be handed out to customers upon paying their bills.
Ruth Goudie, marketing and PR manager, Benefit Canada, says that, as expected, there has been a viral response to the posters and goodie bags, with lots of people taking photographs of the signage and tweeting their findings. She adds that since the posters were placed, the brand has seen a 42% increase in its Facebook following.
The second component of the campaign has also begun and will continue to run until Jan. 3, where consumers can enter, via the brand's Facebook page, for the chance to become Miss Benebabe 2012. The title will enable the winner to try out new products, receive exclusive invites to events and, to some extent, represent the brand through its social media pages, says Goudie.