Toyota's Scion iQ goes to the big screen
The world's smallest car is promoted in a big way at Cineplex Entertainment theatres with film trivia and a contest.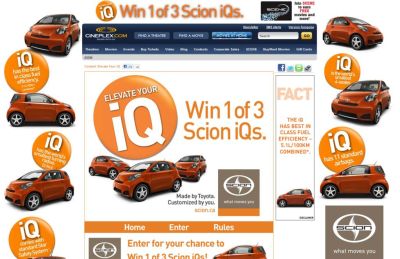 For the next month, the world's smallest four-seater micro-subcompact car, the Toyota Scion iQ, will be promoted at the home of the big screens.
With the help of Toronto-based agency Dentsu, the new car will take over the lobbies in Toronto, Ottawa, Montreal and Vancouver Cineplex Entertainment theatres as the brand promotes the car with trivia games for movie-goers.
Digital signage in each of the theaters will pose questions relating to film with the tagline of "Elevate your iQ". The theme of each question is then extended to share facts about the newest addition to the Scion family of cars.
For example, consumers are asked which monster movie was shot with two of the world's smallest motion picture cameras (Answer: Cloverfield). The question is then turned  around to include a, similar in nature, fact about the car: the iQ has the smallest turning radius.
Stephen Beatty, managing director, Toyota Canada tells MiC that December is a high traffic month for movie-goers and the partnership with Cineplex is a part of its strategy to reach a large audience within its target demographic of 25- to 55-year-old singles, couples and urban dwellers.
All signage in the theatre lobby drives consumers to the Scion page on the Cineplex website where the brand has set up a contest for three iQ car give-aways. The draw will take place on Jan.11, 2012. There will also be a car display in each of the lobbies and a commercial for the new car will play before movie trailers.
"It's not just the opportunity to run our ads on the big screen, but it's the added presence through the car give-away, online, print, experiential engagement and displays," adds Beatty. "The iQ has a broader appeal than the other Scion models so we needed to take a unique approach with this launch."