Spotted! Mini helps holiday shoppers with easy unparking
This holiday season the car company is relieving parking lot stress for its drivers with its Mini Parked Car Locators.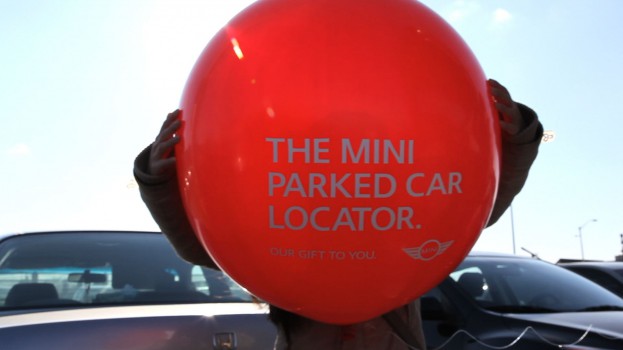 Mini Canada gave shoppers who drive its vehicles something extra special this holiday season, helping them to reduce the amount of "@#$%" in "where the @#$% did I park my car?"
Recognizing that the only things worse than over-crowded malls are jam-packed parking lots, causing shoppers to spend extra time wandering aimlessly in the cold in search of their cars, Mini created 150 Mini Parked Car Locators.
Developed by Taxi 2 in Toronto, the stress-relieving devices, three-foot helium balloons with the message "Your Mini is parked here" printed on them made it easy for Mini drivers to quickly "un-park" their vehicles and get back on the open road.
"There's nothing worse for a Mini driver than being trapped inside a jammed, holiday-shopper-infested parking lot, missing out on all the fun and excitement of the open road," says Mike Blackmore, copywriter, Taxi 2. "This was a brand initiative, a way for Mini to offer a simple, yet fun holiday treat to its drivers, bring a bit of cheer to their day and to remind them that we are always thinking of them, even during the chaotic holiday season."
The stunt was executed in mall parking lots in Toronto, Vancouver and Montreal on December 10, 15 and 16 respectively. No Mini was left un-located.