Tourism Whistler wants you to get away
The B.C. ski spot has launched its largest campaign to date, promoting a contest which offers a month-long sabbatical to one lucky winner.
Tourism Whistler's campaign offering a chance to win a month-long sabbatical on the slopes has exceeded expectations, and there are still a few weeks left to go, Danielle Kristmanson, creative director at Origin Design + Communication, tells MiC.
The integrated campaign offers people a chance to take a month off work and live on the slopes – fully paid. While crowning a winner is the gimmick attached to draw people in, the actual purpose of the campaign is to highlight the different types of experiences a visitor can have on the mountain.
The contest launched mid-October and ends Jan. 25. It features a microsite and video vignettes highlighting experiences to be had on the mountain and the personalities involved – such as helping a snow-groomer prep the hills, or singing on stage with a local pop star. Each vignette has an accompanying blog post that goes more in-depth into the story.
"Whistler sometimes has a reputation of being a place that doesn't have a lot of that human quality – it's big and purpose built," she says. "We wanted to humanize the brand."
These vignettes have been released weekly over the course of the campaign and are also offered up as weekly prize. The overall winner of the month-long sabbatical can choose to participate in each of these activities once at the resort.
This is Tourism Whistler's largest campaign to date, Kristmanson adds, with ad buys in Canada, the UK, Australia and Washington State.
Most of the support for this campaign came through a large social media push and online advertisements. The media buy, handled by Wasserman + Partners, included a mix of online page takeovers, banner ads and pre-roll. TV spots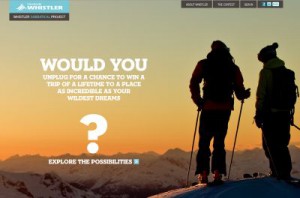 were included on Sportsnet and Discovery in Canada, cable TV in Australia and outdoor tube channels in the UK.
"The contest was really just a good channel for a good brand campaign," says Kristmanson. "Our market is really educated and affluent travellers, and this idea of a sabbatical percolates in so many people's heads right now. So we really tapped into that insight that these people know there is something more to life than their jobs and [that] they want to unplug."
With an average income over more than $150,000, Kristmanson says the target audience for this campaign is the highly educated independent adventure traveller aged 35 to 55.
"They're looking for really unique travel experiences," she says. Once a person enters the contest, they are engaged in the other aspects of the site and brand experience.
As a result of the contest, Tourism Whistler has driven record numbers to its website, increased its social media following and engagement by 60%, and Kristmanson says it forecasts a 4% increase over last year's season in terms of bookings.
Kristmanson says they hope to leverage the winners' experiences for next year's campaign.