FDR Media looks to target 'underserved' ethnic markets
Sunni Boot weighs in on the importance of the media co's new channels to the Canadian market.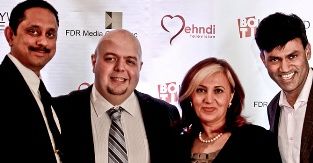 With specialty programming booming and diversity in Canadian TV audiences growing, FDR Media Group is looking to fill a hole in what CEO Ron Maitra sees as underserved, or completely unserved, markets.
In the last month, the CRTC has approved FDR for four specialty Category B licences for Channel Q TV, Hindi Children Channel and Masala TV, on which 90% of the programming will be in Hindi.
Maitra says the channels will also target Muslim and mainstream audiences in addition to its South Asian focus.
According to numbers from StatsCan, the audience potential for the channels is significant.
The StatsCan Canada Yearbook 2011 states that South Asians, the largest visible minority group in Canada, could represent 28% of the visible minority population by 2031, and Arab and West Asian ethnic groups could more than triple in that time. In terms of religious diversity, the number of people adhering to a non-Christian religion is expected to almost double from 8% of the population in 2006 to 14% by 2031 – and about half of the non-Christian population would be Muslim (up from 35% in 2006).
South Asian-targeted media offerings have recently enjoyed higher profile in Canada, including the resurrection of  Hockey Night in Canada in Punjabi at the end of 2010 and the Indian International Film Academy (IIFA) awards, hosted in Toronto this June and broadcast as a pay-per-view event. Complementary "green carpet" coverage from Rogers Media's OMNI channel pushed the network to the top spot in the 18-to-49 and 25-to-54 demos during that time period, according to numbers from OMNI Television, supplied by BBM Canada.
And where big audiences go, so too does advertiser interest, says Sunni Boot, the CEO of Toronto-based media agency ZenithOptimedia.
"Ethnic media will attract mainstream viewers if the offering is right – Bollywood movies are of interest to many groups, not just South Asian," explains Boot. "The success of the IIFA awards is a strong testament to the intrigue and interest in Indian celebrities. The South Asian community is a large audience with powerful purchasing power and influence, and that too is recognized by numerous companies."
Maitra says FDR's programming will extend beyond entertainment, tailoring business, educational and lifestyle shows to the religious and cultural norms of the channels' target audience.
Competitors to FDR's upcoming offerings include the Asian Television Network (ATN), which Maitra calls the company's closest competitor. ATN operates 35 specialty channels featuring general interest, news and lifestyle programming catered to the South Asian audience, including regional offerings exclusively in Hindi, Punjabi, Tamil, Bangla and Gujrati.
FDR's Channel Q TV, which was approved for both Hindi and English licences, will be renamed Asalam (which in Arabic means "peace be upon you"), and Maitra says the company is looking to launch the English version of the channel in the next 90 days.
Asalam will feature programming targeted towards the "definitive needs and cultural religious norms" of people of Muslim faith, says Maitra, and will include a mix of educational, religious and lifestyle programming.
FDR is developing and producing approximately 80% of the programming for Asalam. As for examples of homegrown fare, Maitra cites a game show similar in format to Who Wants to Be a Millionaire, but built keeping Islamic religious considerations in mind. Since gambling isn't allowed in the Muslim faith, Maitra says the goal of the show will be to raise money for charities.
Hindi Children's Channel will be renamed Halla Bol (which means "make noise") on launch. Maitra says the strategy behind this channel is to teach and maintain kids' primary languages as they grow up in North America. The channel will feature entertainment and educational programming for kids ages three to 10 years old.
Dalal Street, which was also approved for licence in December, will feature business news and current affairs programs. FDR also plans to launch HD Tamil film channel Pesum Padam, and Masala TV, which will feature cooking shows and food-related programming.
FDR's marketing is handled by Toronto-based Nexus Advertising, with whom they are working to promote the media co's upcoming launches and annual FDR-produced events. Campaigns for the company have already appeared in newspapers like Metro and on the radio.
The company has also partnered with Corus Entertainment for their back-end tech services, like web programming and database management, with Corus chief technology officer Scott Dyer leading the team. FDR is housed in the Corus building.
FDR Group partners are (pictured) Maitra, Prashant Pathak, David Martin and Fariba Rawhani.
From Playback Daily