APTN comedy series tells fortunes online
Sketch comedy series Caution: May Contain Nuts target young men with a fortune-telling site promoting its third season.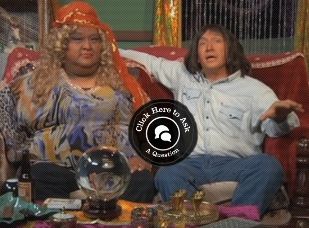 Do you want to know if you'll strike it rich, find true love or maybe end up alone?
Now, Delmer and Marta, from Mosaic Entertainment's Caution: May Contain Nuts, can tell you, thanks to a new video-based interactive website by Vancouver-based digital studio Switch United.
Mark Ross, director of Switch United, says the app is aimed at men aged 18 to 25 who are looking for funny videos online.
"We are hoping they will spread the content to their friends, because they are early adopters of this sort of online content," he says.
The site, featuring a spoof talk show called On Love and Money, features Edmonton comedians Sheldon Elter and Howie Miller in character as the couple they portray on the sketch comedy series Caution: May Contain Nuts, which airs on APTN and BITE. Via the interactive website, the duo answer user-submitted questions about love and money (using a maximum of three words) based on keywords and hilariously vague, pre-recorded responses.
The site is part of a digital campaign to promote the series' third season, which premiered Jan. 5 on APTN, and airs at 9 p.m. MT.
Edmonton-based prodco Mosaic Entertainment partnered with Switch to create the interactive digital app, which includes built-in social sharing tools and a custom "Twitter" bot that sends fortune clips in response to keyword-driven tweets.
Elter and Miller turned out more than 650 video responses for On Love and Money as Delmer and Marta. Video fortunes are delivered in response to keywords used in the queries, and answers can range from the philosophical to the entertaining.
For example, Marta looks to hip hop lyrics to answer whether or not you'll strike it rich: "Keep my mind on my money and my money on my mind. Dolla dolla bills, yo."
If the user lingers on the page after receiving an answer about love or money, another clip will play featuring commentary or humorous musings from the pair on the topic.
Ross says the website saw over 12,000 questions asked in the last week.
From Playback Daily, with files from Val Maloney