H&R Block visits Million Dollar Neighbourhood
In a product integration deal with the OWN Canada's new show, the tax company demonstrates its "Second Look" program.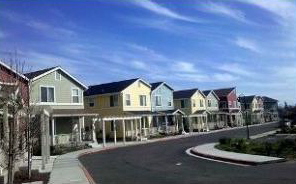 H&R Block is hoping that its involvement with OWN Canada's Million Dollar Neighbourhood, will encourage consumers to give it a "Second Look" when preparing their tax returns.
The program, which premieres on Sunday, Jan. 22 at 8 p.m., follows the financial ups and downs of 100 families living in Aldergrove, British Columbia as they try to raise their collective net worth by $1 million.
Hilary Moore, marketing manager, H&R Block, tells MiC that in the first episode of the show, the brand will demonstrate its "Second Look" program to viewers through interactions with the families. The free-of-charge program allows first-time H&R Block customers to have their past four years of tax returns looked at by a representative to double-check to if they or someone else missed any credits or deductions.
"Nobody really believes that it's free and it's really hard to get people to try it," says Moore. "We thought this would be a great opportunity to go beyond just saying, 'Here's how to save money on your tax return' and actually demonstrate this to people."
The brand will be represented in the show by its team of tax advisors, all wearing a signature green golf shirt as opposed to their usual suit and tie. They will reveal, in a green box, how much each family has saved after taking a second look at their tax returns. Media and creative were handled by Due North Communications.
In addition to the integration, H&R Block also created "Tax Tips" promos to be aired during the show. The brand wanted to take it further and so it went back to the town after the final episode filmed and interviewed the families that got the most out of the program, says Moore. The post-show interviews will be used in spots that will be placed online and on the H&R Block Facebook page.
Moore explains that the brand wanted to appeal to a diverse audience, just as the show families vary in income levels and size, and adds that "there are people [in the show] that are single parents and there are those who are sort of well-off. We're speaking to a fairly wide audience as anyone can miss things in their taxes."
General Mills has also signed on to the show, providing the community of families with a healthy breakfast where it will integrate products such as Cheerios, Fibre One, Cinnnamon Toast Crunch and Nature Valley in episodes five and eight. The General Mills sponsorship was handled by ZenithOptimedia.