MiC's Global Tour: Mobile
The latest and best mobile campaigns from around the world, including work for Domino's in the first edition of the new series.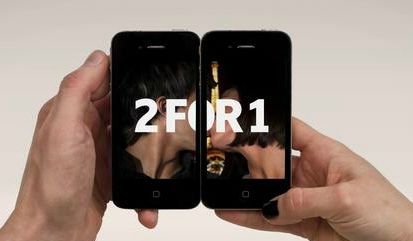 As part of Media in Canada's 2012 goal to bring more of the world's best campaigns to the attention of the Canadian media industry we are launching MiC's Global Tour, a regular column focusing on innovative campaigns from one platform at a time.
Our first feature focuses on mobile, from OOH ads which double as pizza ordering booths in the UK thanks to Domino's, to bringing loved ones together when they book travel with Scandinavian Airlines.
Have something you think we should mention in MiC's  Global Tour? Email us at Vmaloney@brunico.com.
Scandinavia: It takes two to connect with Scandinavian Airlines
Scandinavian Airlines put one and one together for its "Couple Up to Buckle Up" campaign (pictured) that created a dual-viewing experience for couples. The airline placed QR codes across online and print platforms that, when scanned, presented half of a video promotion which could be properly viewed when both smartphones were held side-by-side.
Click to read the original article.
UK: Domino's overlaps mobile with some OOH
The UK arm of the Domino's chain has figured out a quick-fix solution to relieving consumers' hungry tummies. Using the services of Blippar, the QSR placed augmented reality OOH ads across Britain that allowed users to download its mobile ordering app for deals on menu items as well as connect with the brand on Facebook. The direct-response campaign was executed to promote its 555 deal of three medium pizzas for £5.55.
The eye-catching posters are meant to draw the attention of hungry pedestrians while on the street and the mobile app, which provides consumers with local store offerings, also allows the consumer to order right at that moment and have the pizza arrive at their front door.
Click to read the original article.
Singapore: Volkswagen lets you test drive a car at the swipe of the screen
Speaking of 3D advertising, Volkswagen Singapore recently launched its iPhone app and in celebration, the brand created the country's first augmented-reality newspaper ads which allowed readers to interact with features of its cars and even book a test drive. The physical meets digital platform allows the brand to create a showroom experience that gives consumers more to engage with than a typical two-dimensional print ad.

Click to read the original article.
US: Levi Strauss casts a global net on Instagram
For its 2012 brand campaign, Levi Strauss issued a global casting call on Instagram, a popular social mobile app, where the brand invited users to upload images to the platform with the tag #iamlevis, in the hopes of becoming the next face of the Levi collection.
Click to read the original article.
US: Walt Disney Studios plays with Kiip
Freebies always do well with consumers, as advertising start-up Kiip will agree. The US-based agency specializes in offering rewards, usually from CPG brands, while playing mobile games.
In Kiip's latest platform, "Swarm," Walt Disney Studios signed on as the first advertiser, setting up "flash tournaments," which allow players to compete for much larger prizes such as a 3D TV with a surround sound system. With the tournaments, players return to compete with friends for more expensive and appealing prizes. The platform is a solution for brands looking for good impressions as well as for publishers wanting to reward consumers for playing their games.

Click to read the original article.