Scotiabank renews deal with NHL
The bank's senior VP of marketing tells MiC why the sponsorship is important to the company.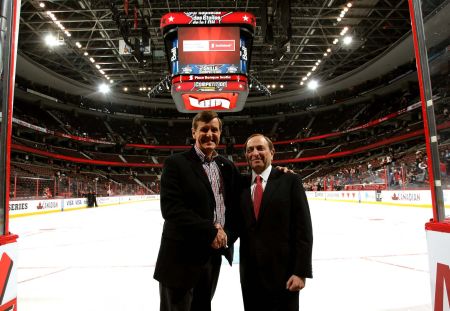 Scotiabank has renewed its deal as the Official Bank of the NHL, a role they have had since 2007.
Duncan Hannay , senior VP of marketing at Scotiabank, tells MiC the sponsorship allows the bank to connect with the 9.5 million avid hockey fans in the country through events like Hockey Day in Canada, which is being broadcast from P.E.I. on the CBC this Feb. 11.
"The deal allows us to give back to the communities where we live, as well as align our brand with something that Canadians are passionate about," he says.
The sponsorship deal also includes the Scotiabank "Celebration of Hockey" series which has seen the NHL Stanley Cup tour to over 75 communities across Canada and the Scotiabank Community Hockey Sponsorship Program, part of the Scotiabank Bright Future program that has subsidized hockey for 70,000 youth across the country.
Photo: (left to right)  president and CEO of Scotiabank, Rick Waugh and NHL commissioner Gary Bettman