H&R Block takes another stab at curing "Tax Pain"
The tax preparation firm adds prices to its TV spots to entice customers.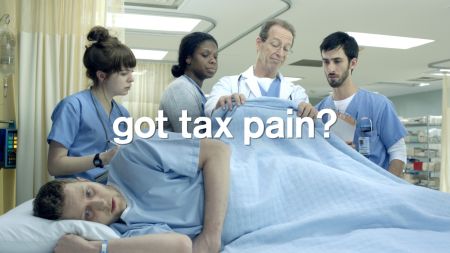 Attempting to rid Canadians of the pain that comes with filing taxes, H&R Block has launched a second instalment of its "Tax Pain" campaign after the initial round last year caused brand familiarity in English Canada to increase which subsequently resulted in a modest growth, Jeff Robinson, account director, Due North Communications (the agency that worked on the creative), tells MiC.
There was a generous amount of social media chatter around the campaign TV spots, says Robinson, noting that H&R was finally able to get people to chat with their friends about taxes, which is a considerable coup for the brand.
For the next three months, the brand will air a series of TV and radio spots placed by media agency Vizeum.
The first of a total of four commercials debuted on Sunday during the Super Bowl, which Jill King, president, Due North Communications, says is the first time the Canadian arm of the brand has been a part of the high-ratings game, adding that it did so in order to make an impact right at the start of the tax season.
The remainder of the campaign material, which will air as 15-second spots, will run every two to three weeks and will appear during primetime and top 20 programming, says Robinson. This includes specialty networks such as TSN, HGTV, Discovery, MuchMusic, Comedy and The Weather Network, as well as conventional channels such as the CBC, Global and CTV.
In the debut 30-second TV spot, a doctor with a round of interns is shown checking the posterior area of a patient where he discovers the unfortunate "Tax Pain" he is suffering from. While the doc offers no assistance to relieve his pain, H&R Block ends the spot with the statement that it has the cure in the form of a basic tax return for the price of $59.99.
While the creative remains relatively consistent to the previous year's campaign, the difference is the addition of a new low price point, explains King, saying that through research, the brand found that consumers wanted to know exactly how much it would cost for their professional help.
"With exception to our student returns, we have never advertised to the general public a starting price point," she says. "The reason being is that everyone's returns are slightly different and prices have historically been [based] on how many forms you have or how complicated your return may or may not be."
King also says that H&R Block wanted to express, in the ads, the fact that it has a competitive advantage over software that allows consumers to file their taxes directly.
"We built on the ease and convenience [communicated] in last year's campaign," adds Robinson. "And this is all supported with the proposition of expertise, unlike with tax software where it really is up to you to do your taxes on your own."