Coors Light signs on with Sportsnet
The beer brand is the exclusive cross-platform presenting sponsor of Hockey Central Trade Deadline coverage.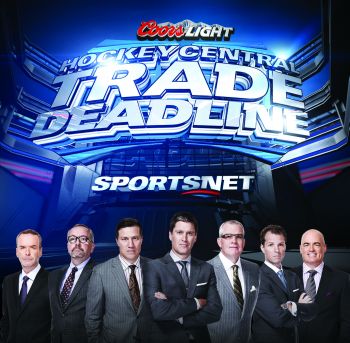 Sportsnet has announced it has signed a deal with Coors Light, making the beer brand the exclusive presenting sponsor for its coverage of Hockey Central Trade Deadline from now until NHL trade day on Feb. 27.
The sponsorship deal, which was put together by MEC and Rogers Media, includes all five of Sportsnet's platforms, including a featured spot in the Feb. 27 issue of Sportsnet magazine.
The partnership also includes integration into the Hockey Central Trade Deadline main logo, branding on the Sportsnet set, TV billboards and lower thirds, sponsorship of digital, mobile and radio elements including all trade updates and the digital "Trade Tracker."
Jamie Michaels, director of strategic brand integration at Sportsnet, tells MiC it's the brand's first fully multi-platform sponsorship deal and one of the first projects he has worked on since starting in the role there months ago.
"We spent time communicating with brands and agencies and MEC and Molson with the Coors Light brand jumped on it right away and it was a very quick deal," he says. "We both knew it was a good fit."
Other supporting partners for Sportsnet's Hockey Central Trade Deadline coverage include Boston Pizza, Hampton Inn and Tim Hortons.