Sprouter launches BetaKit
The Postmedia-owned company aims to dig deeper with its online publication, which has ad opps available.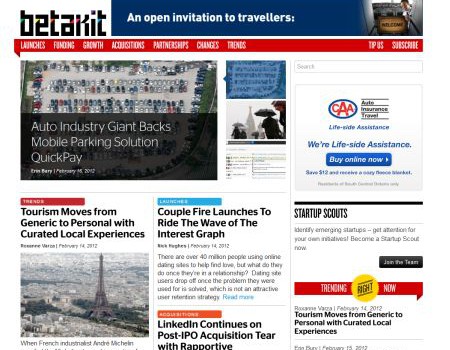 Sprouter, the entrepreneurial help centre which also hosts events and offers a weekly newsletter for the start-up community, has launched BetaKit, an online publication aimed at providing news on emerging technology.
Sarah Prevette, founder, Sprouter, tells MiC plans to launch the online publication were formed long before the company was purchased by Postmedia last fall. She adds the publication aims to provide information about emerging technology, without the "traffic baiting" seen from other sites.
"The trend in tech reporting over the past several years has been to talk about Facebook and Zynga and Apple rather than focusing on start-ups," she says. "So, this is really an interesting gap we saw, which was not covering emerging tech in-depth and globally. We are hoping that using the communities Sprouter has amassed we can help showcase emerging technology and help identify potentially disruptive start-ups early."
The online publication will target marketers, as well as entrepreneurs and business owners, says Erin Bury, managing editor at BetaKit.
Prevette says ad opps on the site will range from traditional display to sponsored sections and content. She adds that BetaKit is an ongoing evolution and plans for a mobile app will be next for the brand.