Abcon Media tees off with a golf ad network
The media co will have ad consoles in golf carts across Canada, targeting high-income male consumers.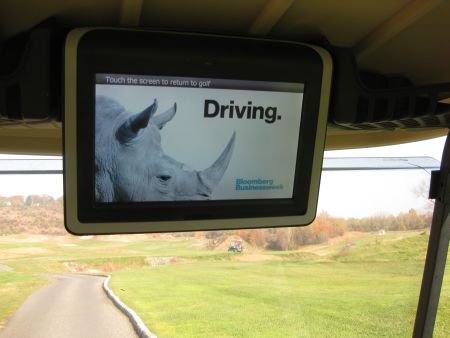 From cabs to boats, brands are making use of every nook and cranny available to create awareness for themselves. So why not add golf carts to the mix?
Toronto-based Abcon Media is convinced that it's a lucrative outdoor space, which is why the agency is partnering with 2aTEE Golf Media, a US-based media co that has placed ads on GPS consoles on golf carts south of the border.
The agreement will enable Abcon Media to work with advertisers to place full screen static ads, 15 and 30-second commercials as well as banner ads on more than 3,500 consoles in golf carts in more than 50 Canadian courses, Tom Novosel, VP of sales and marketing, Abcon Media tells MiC.
Novosel says that there are plenty of custom opportunities for advertisers to get creative and track engagement. For example, he explains, ads with creative that urges the consumer to "Touch Here" can be used to direct them to enter a contest, opt in to receive future brand offers or download coupons and vouchers.
Brands can also sponsor interactive games or simply place a QR code on the screen, directing the user to its website, he adds.
"The [advertising] availability is there right now, but we don't sell it on a loop like most digital networks," says Novosel. "With our ad opportunities, you are the exclusive buyer, it's yours from tee to pin and we recommend a six-hole buy so you have an even coverage throughout the round at the beginning, middle and end."
"You get constant exposure through various ad sequences," he explains. "When [the consumer] is 75 yards [away from the] hole, the full screen static ad will go on. And prior to that, you can have a banner ad next to relevant function keys."
What makes this particular space valuable to advertisers is the ability to target an affluent and well-educated audience with an average household income of more than $100,000, Novosel says. The audience tends to skew male with a sweet spot of 45 years old, but it can run the gauntlet from about 30 to 64-years-old, he adds.
The GPS consoles are also not a standalone advertising medium. Among the ads that promote and create awareness, golfers can also use the console to provide them with pro tips, distance to the hole, 3D visuals of the course layout and the ability to order food and beverages to the cart.
"Nine out of 10 golfers say that the [console] enhances their overall golfing experience through the relevant functions and content," he says. "So this is a unique medium in that you are not only raising awareness of your brand, but you are also affiliating yourself with the aforementioned positive experience."