Ikea wants to get to know you
The retailer has taken to the streets with caffeine handouts to better understand its consumers' home lives.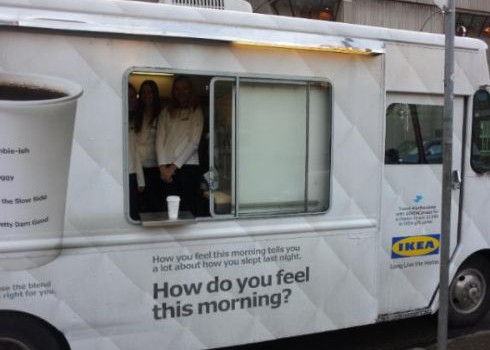 Taking what could be considered an unorthodox approach to consumer research, Ikea Canada set up shop in Toronto and Vancouver yesterday handing out coffee and a survey that asked, "How are you feeling this morning?"
More than 2,500 cups were bestowed upon caffeine-deficient pedestrians on Wednesday morning. But don't lose any sleep if you missed the truck yesterday, it'll be making another round of freebies today and tomorrow morning in the major cities.
On each of the cups of Joe, a questionnaire in print asked consumers if they feel (a) Zombie-ish, (b) Groggy, (c) On the slow side or (d) Pretty damn good. An additional question, not found on the cup, asked if they slept on an Ikea mattress.
There is also a Twitter contest, where the brand has asked Twitter users to post tweets with  the hashtag #bettersleep and an accompanying reason as to why they are in need of a new mattress. Ikea will prize a $1,500 gift voucher to the best tweet at the end of the week.
Madeleine Löwenborg-Frick, public relations manager, Ikea Canada tells MiC that the stunt was put together by Jungle Media and Leo Burnett in an effort to better understand its customer's life at home.
And while en route to consumer discovery, Löwenborg-Frick explains that the brand also used the opportunity to promote its new line of mattresses as well as its current mattress event where consumers can save on purchases.
This isn't the first time that Ikea has taken a experiential approach to marketing itself. When the brand opened up a mega-store in Ottawa last December, it took to the streets with "beautification" trucks, inviting Canadians to exchange their decrepit home furnishings with gift vouchers to shop at the new branch.
In Montreal, the brand made use of the provinces annual moving day (where a good portion of Canadians move on the same day) by handing out boxes to help transport their belongings. To drive consumers to Ikea stores, a coupon was placed on each of the boxes.
Löwenborg-Frick explains that these are a big part of the brand's ongoing efforts to connect with consumers and gain insight into how they live their lives at home.
"We're a lifestyle and tongue-in-cheek brand and we like to do things in a fresh way and show that our customers are important to us," she says. "We don't want to talk to ourselves, we want to talk to our customers and I think it's important to get on the street and actually interact with people and engage their attraction and impression of the brand."