MiC's Global Tour: social media/interactive
Lucas Steinman at Vizeum weighs in on Coca-Cola's puzzler in Israel and Brazil's Facebook-powered car.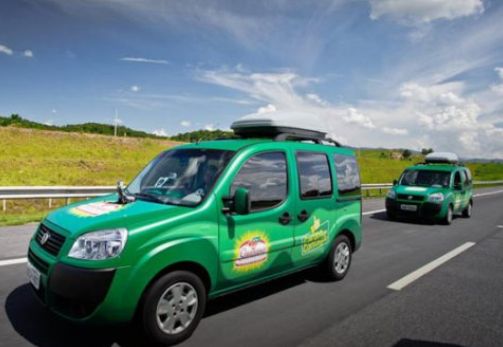 In this week's edition of MiC's Global Tour, a regular column focusing on innovative international campaigns, we look at social media executions with an element of interactivity. In the mix this week, a Facebook-powered vehicle drives across Brazil and a contest pits LinkedIn professionals against one another.
MiC asked Lucas Steinman, digital communications supervisor, Vizeum Canada, for his opinion on the international campaigns and what he would do differently in their execution.
Brazil: Guarana Antarctica converts "likes" into mileage
What if your car could be powered by the amount of friends you have on Facebook — how far do you think the social media tank would take you? A soft drinks company in Brazil, Guarana Antarctica, put the question to test with a contest that turned "likes" and comments into mileage for its branded vehicle.
Three fans were chosen to make use of their social skills, where 220,000 interactions on the brand's Facebook page were needed for them to travel from Sao Paulo to Salvador to attend Brazil's Carnaval.
Steinman: Overall I think this was a very unique way to tie the physical world to the online world.   There have been very few executions to date that use social media as "fuel" so I think this scores big as a unique initiative and takes into account growing belief in the digital industry that we need to start attributing value to social media interactions and users.
Typically marketers build an audience so they can communicate offers and information to them.  In this case, users WERE the offer and that really is something special.
If I were to add something to this, I would look at additional ways to increase the fun for users at home – place a video camera in the vehicle that shows the driver and streamed online to Facebook.  The stream could also be coupled with a real-time GPS so users can see where exactly the car is, and how the driver is doing. Alternatively they could host the stream on the client-direct site to encourage cross-visitation between the Facebook page and the client-site.

Click here to read the story.
Israel: Coca-Cola leaves its Facebook fans puzzled
Coca-Cola is another soft drinks brand that tried its hand at creating an interactive digital experience for Facebook fans. The brand turned an on-air commercial into an online puzzle game that consumers were invited to solve. Its Facebook page received roughly 21,000 additional fans and more than 350,000 video views in the span of the campaign's two week execution.
Steinman: Typically online ads are designed around interactions in a way that encourages users to interact with specific brand information.  In this case, Coca-cola gave users a simple and easy-to-play game that was not solely focused on specific information, only a thought to provide something fun and new to tired and general use executions.
Digital Marketers know that games garner interaction, and that video tells the most compelling story. By mixing it seamlessly, they provide a unique experience in the digital world.
If I were to add something to this, I would add in options to change the type of puzzle.  Assuming this was not set with a frequency cap of one per user, it must be assumed users will see more than one impression.  As such, I would add an option to Toggle the type of puzzle so a user with a second impression can still enjoy the game and leave with a positive experience.
Click here to read the international story.
Global: Professionals go mano-a-mano for Fujitsu's "Profile Pitch"
Using social networking site, LinkedIn, Fujitsu encouraged working professionals to have their profile analyzed and scored to determine how it would match up to others on the platform. Participants could form a tag team and pitch against rivals, including their colleagues. Each week, the best team won a set of the brand's Lifebook computers.
Steinman: So far we've seen a huge variety of marketing campaigns focused almost obsessively on Facebook alone. Skilled professionals are a key target to reach for many brands (specifically the tablet market), [and] I think it was a prudent choice to get involved with users via LinkedIn, a relatively under-used site for unique marketing tactics.
With that said, this is not available in Canada, and I would encourage a major global brand to include prizing for all countries or better geo-target their initiatives. I think the overall concept of the promotion is strong but if you are not eligible to win, you would see a major reduction in activity within the country in question.
If I were to add an element to improve upon the concept I would have looked to do this as a master social media campaign. Typically, clients have put a lot of time and focus on developing their Facebook audiences and that to execute a campaign without using that massive (and free) communications base leaves room for opportunity. I would look for ways to use this concept across Facebook, LinkedIn and even new entrants like Pinterest.
Click here to read the international story.