The ICA modernizes its look
The association has revamped its website with the goal to better represent its agency members.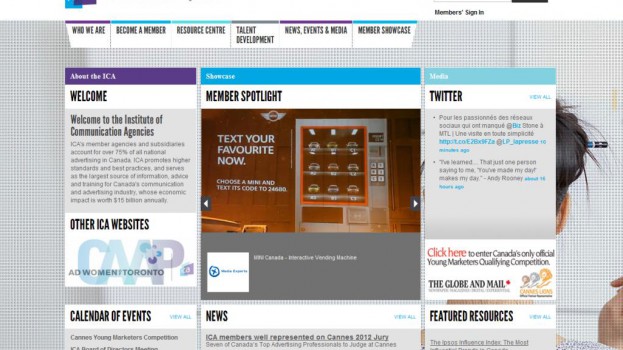 The Institute of Communication Agencies (ICA) has given its website a face-lift, taking what was once a text-heavy destination and transforming it into a comprehensive, member-generated industry portal.
The ICA is a professional business association that represents Canadian communication and advertising agencies. The institute's mission is "to champion commercial creativity, amplify our economic impact, embrace and drive change."
At a private Toronto screening of the revamped site, Gillian Graham, CEO, ICA, tells MiC that the organization recognized the need to provide an effective service for its members to showcase and promote their work.
All of the site features have been packaged up for utility with an agency showcase section (dubbed the "member spotlight") as the focal point of the site, she says of its overhaul which was carried out by creative agency, Cundari.
Todd Hummel, VP digital, Cundari, concurs with Graham, adding that the changes reflect a collaborative porch for agencies to take part in a dialogue, which he believes is absent in associations in other markets.
"From research we found that a lot of the institutions and associations push [information] out to its members," he adds. "The unique approach to this is really is about collaboration, engagement and making it about user-generated content rather than the association pushing it out."