ComFree sells itself, commission free
The real estate brokerage launches a campaign with an increased focus on OOH to set the record straight on exactly what it does for consumers.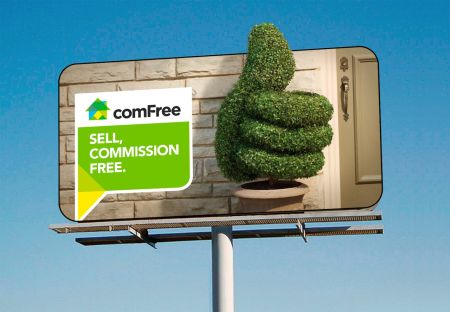 ComFree is a real estate brokerage that sells itself by charging a flat fee for its services, in place of a commission rate. But, the company finds many Canadians are still relatively in the dark when it comes to understanding what it actually does.
This lack of understanding is the reason behind the launch of a marketing campaign (with media placed by Touché!PHD and creative by Taxi) that communicates the positive experience one can gain from working with the company, Brian Gill, creative director, Taxi tells MiC.
A sequence of OOH and online ads feature green hedges that have been trimmed to represent a thumb up and another with the word "cool." The tagline states, "Sell, Commission Free."
The brand has placed a larger percentage of its budget on the extended three-dimensional and standard outdoor billboards, much more than previous marketing campaigns, says Gill. And the digital component, executed by agency w.illi.am, will include banner ads and homepage takeovers. In addition to the outdoor and digital elements, the brand will also have ads on the radio.
The campaign launched yesterday in Ontario and will continue through to the summer, where it will be on hiatus until the fall when the real estate market picks up again, says Gill.