CTV rolls out Academy Award broadcast details
L'Oreal and Becel are back as broadcast sponsors, with Bell Fibe and Infiniti on board as first-time digital partners.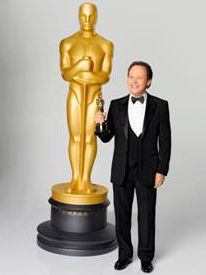 Grab your favourite spot on the couch and get ready to judge some dresses, CTV has rolled out its schedule for Sunday's 84th Annual Academy Awards.
Coverage kicks off with CTV at the Oscars on CTV, CTV.ca and CTV Mobile at 6 p.m. eTalk host Ben Mulroney will chat up celebrities as they arrive while Leah Miller covers what they are wearing.
CTV's coverage jumps to CTV Two from 7 p.m. to 8 p.m. for ABC's Oscars Red Carpet Live, while The Amazing Race plays an hour earlier than usual to accommodate the awards broadcast on CTV.
Oscars Red Carpet Live coverage moves to CTV from 8 to 8:30 p.m., when the broadcast of The Academy Awards, featuring host Billy Crystal begins on the channel.
Confirmed sponsors for the 84th annual awards include L'Oreal as the sponsor of the Oscar broadcast and Oscars Red Carpet Live on CTV and CTV Two. Becel also returns for its second year, sponsoring CTV at the Oscars on CTV.
Bell Fibe and Infiniti signed on as sponsors of the broadcast and Oscar night live chat, featuring eTalk's Lainey Lui, available on CTV.ca and the CTV iPad app.
Last year's Academy Award's broadcast brought in 6.1 million Canadian viewers, up 4% over the 2010 show, according to BBM Canada.