MiC's Global Tour: digital OOH
Rebecca Shropshire from UM Canada critiques the international ads, including a Minority Report-style gender-specific execution in the UK.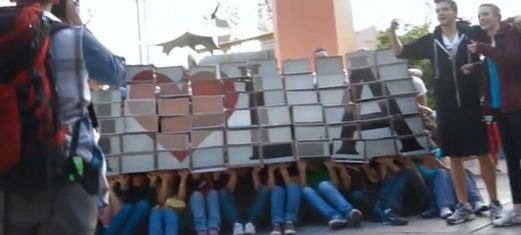 The most recent installment of MiC's Global Tour, a regular column focusing on innovative international campaigns, takes a peek at digital outdoor executions from brands that have gone the extra mile to make a splash. From facial recognition billboards in the UK to a new-age take on flash mobs in the US, we guarantee you'll find a bushel of inspiration below to take back to the drawing board.
MiC invited Rebecca Shropshire, VP digital, UM Canada, to provide her take on the global campaigns and if she thought that they could hold ground in the Canadian market.
US: Intel takes a fresh approach to flashmobbing
Some may gripe about flash mobs being passe, but Intel has managed to breathe some life into the format with an outdoor execution in LA. The brand let loose a team of 60 people to carry out a series of surprise stunts, creating a digital billboard out of 60 Intel Ultrabooks. The "Pop-Up Theatre" joined a yoga class on a beach, imitated a crowd cheering at a basketball game and composed music along with a busker at a train station, to name a few.
Shropshire: Ok – I'm way over the flash mob. I want to like this execution, I really do. Having 60 people show up on sidewalks, in cafes and at people's birthday parties with messaging that is cohesive and spans all 60 Ultrabook screens is no doubt great for driving the WTF factor and creating some intrigue around the executions.
I'm just not sure it creates enough intrigue around the actual product itself. The fleeting impression created by the overall event likely distracts people from questions the brand team would really like them to ask, i.e.: "I wonder what computers they are using?" or "how DO the messages appear and synch up so quickly anyway?"
It would be interesting to know how much search interest or general buzz each execution may have driven to understand whether these connections created enough momentum for people to want to actively discover more about the product.
Click here to read the international story.
UK: Plan UK targets with facial recognition
The non-profit organization, which aims to help children in third-world countries, has audience targeting to a tee with a transit shelter execution that has digital boards transmitting ads only to female spectators. The high-definition camera scans pedestrians and only when certain feminine features are detected, will the ad show up. The creative is purposely not shown to men to demonstrate "a glimpse of what it's like to have basic choices taken away."
Shropshire: Kudos to Plan for being adventurous enough to spend a significant amount of money in a one-time installation using new technology. Unfortunately this reeks to me a little of an execution for the technology's sake, not necessarily built on insights around the target audience or a leading core concept.
This technology is so new to the average pedestrian passing by that they likely would not understand how it worked. The idea that showing the video ad to women only and instead sending men to the Plan website would communicate the feeling to men that their basic choices were being taken away seems a bit lofty and far too subtle. The fundamental message is a good one but the execution could have been simpler, clearer and I suspect less expensive.
Click here to read the international story.
US: Autism Speaks attempts to Kinect using digital boards
In another execution that plays with sensor technology, Autism Speaks utilized Microsoft's Kinect to make a statement about autism and its effects. Every time someone tried to look at the life-size girl on the digital board, she would move away in fear of eye-contact.
While the creative has received flack from commentators on YouTube, the use of the technology unavoidably opens up another door to interactive advertising.
Shropshire: Well, these guys took a lot of heat for this advertising online. The message itself that children who avoid eye contact may be autistic is contentious depending on one's understanding of, or personal proximity to, someone with autism so I'll park that for the purposes of my commentary.
What the execution is successful at is providing an interesting and engaging way to educate and spark an emotional response, which, at the end of the day is a battle won in the ad world. It very simply uses existing technology in a new way that naturally makes the key message relevant and interactive without asking too much from the participant. I think these executions would work well in transit OOH in the Canadian market, especially because the ensuing conversation would be divergent enough to drive PR, buzz and some healthy public debate for additional earned media.
Click here to read the international story.