Lost Girl Pre-Show aims to grab fae-netic fanbase
Filmed on-set, the one-hour special will air on Showcase Apr. 1 at 8 p.m., just ahead of the show's second season finale.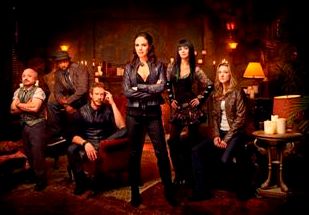 There's nothing new in TV dramas using cliff-hangers to hook an audience for the next season. But producers and broadcasters are also looking beyond suspenseful storylines to attract TV viewers for series' season finales.
Cue Showcase's Lost Girl, which aims to snag viewers ahead of its second-season finale on Apr. 1 with the Lost Girl Pre-Show. The one-hour special will debut at 8 p.m., before the second season finale at 9 p.m.
The drama about succubus seductress Bo and her quest to learn about her origins as a Fae has drawn a cult following online and on Showcase, explains Tara Ellis, senior director for original drama content at Shaw Media. So Shaw commissioned a pre-show to help bring the series' fan base from their online and mobile platform haunts to Showcase for the finale.
The Lost Girl Pre-Show, a first for Shaw Media, will be shot live-to-tape on March 25 on-set, and will be hosted by Lost Girl writer Steve Cochrane. The Showcase special will feature cast interviews and clips from the show.
Shaw Media's Ellis said the pre-show is designed to let the most zealous fans dig deeper into the show and get closer to its cast.
"This really just seemed to speak perfectly to Lost Girl and the rabid audience fan base for the show," Ellis adds.
Shaw Media is using a pre-show-style strategy elsewhere on its schedule to boost the number of audience eyeballs for its original series.
Showcase last week unveiled plans for a six-part online documentary series and a custom Facebook app, courtesy of Toronto's Secret Location, to promote the second season premiere of the Canadian crime series King on Feb. 29.
To generate buzz around the Lost Girl pre-show, Showcase.ca is building on the success of season-long online contests by launching a contest for fans to become members of the studio audience. The Ultimate Lost Girl Experience contest asks viewers to submit either a photo or write up to 200 words explaining their Lost Girl spirit.
Viewers can also submit cast questions to be asked on the show via Facebook or Twitter.
Ellis adds that two 30-second promos will air on Showcase until the contest closes on March 11, and on-air bugs will throw to the pre-show.
With files from Etan Vlessing
From Playback Daily