Metro polls taxi passengers
The newspaper is using Play Taxi Media touch-screens to conduct surveys with urban Canadians.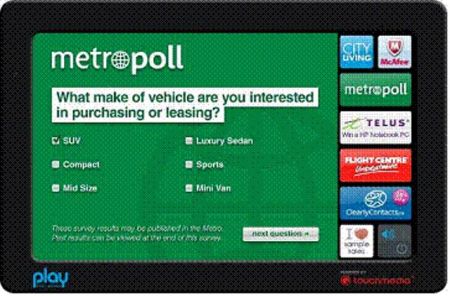 Metro has hailed the services of media agency Play Taxi Media to conduct a survey in over 1,100 of its interactive taxi headrest touch-screens in Toronto, Calgary and Vancouver.
The "Metropoll" survey asks taxi passengers a series of questions that relate to lifestyle and current events, with the results to be published once a month in an issue of the newspaper.
An example question in the poll is, "What make of vehicle are you interested in purchasing or leasing?" and each month a new list of questions is generated, continuing until the end of the year.
Jodi Brown, VP of marketing and interactive, Metro English Canada, tells MiC that the publication was in search of space that would help it reach on-the-go urban Canadians aged 18 to 49.
"The partnership with Play Taxi means that we'll be able to reach YAMs [youthful, active metropolitans] from the morning business crowd to the late-night club crowd in a new way," she explains.
Also on the Play Taxi screens, Flight Centre has launched an interactive effort whereby passengers can play a branded game app to win travel vouchers for their next Flight Centre purchase. Telus is also using a gaming app with the chance to win an HP laptop, while Jack Astor's is offering discounts on food, and the CBC is providing daily news updates with the Weather Network providing weather updates.