Top Chef Canada promotes its return
The show is back on March 12 and is going cross-platform to gain fans for its second season.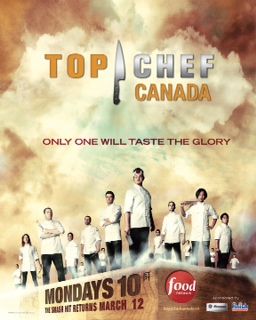 Top Chef Canada returns to Food Network Canada at 10 p.m. on Monday, March 12 and is promoting its second season with a cross-platform campaign aimed at reaching adults aged 25 to 54.
With media and creative done in-house by Shaw Media, the four-week campaign includes OOH, print, online ads and radio spots, Solange Bernard,  director of brand and publicity for the lifestyle channels at Shaw Media, tells MiC.
It also includes grocery store cart ad bars, as well as matchbooks, posters and bill inserts at the restaurants of Top Chef Canada competitors. Top Chef Canada TV spots will be featured across Shaw Media channels on the day of the show's launch.
"The creative for this campaign emphasizes the epic level of competition in the series and the media chosen all offer the opportunity to bring that to life," says Bernard. "From large-format billboards that give the creative a larger-than-life feel, to TV and radio spots that showcase competitive clips from the series, each media vehicle reinforces the sentiment."
Creative will feature the headline "Only One Will Taste the Glory" and the media buy will be heaviest in Ontario, according to a Shaw Media release. Top Chef Canada is buying big to promote the second season of the show, after the first broke records for Food Network Canada, bringing in 410,000 viewers (2+) for its finale last summer.
Krugar Sponge Towels and GE Appliances are back as sponsors for the second season of the cooking reality show.