Rolling Rock makes life easier
The Labatt brand's first Canadian campaign aims to "uncomplicate" things for its target market.
Consumers visiting the beer store these days are faced with choices and ingredients like pumpkin, lavender and limes that vary wildly from the traditional barley and hops that lager is known for.
That's why Labatt's first Canadian campaign for Rolling Rock, since it was brought north from the US, aims to "Uncomplicate" decision making for its target of urban males aged 19 to 34 in Toronto, Montreal and Vancouver, Mike Bascom, national marketing manager, Keith's, Rolling Rock and domestic specialty portfolio, Labatt Breweries of Canada, tells MiC.
The beer, from St. Louis, MO is simple and easy drinking, says Bascom, and the campaign with media by UM and creative from Red Urban was designed to reflect that.
"We thought about taking the American campaign of "Born Small Town" and bringing it across the border, but we talked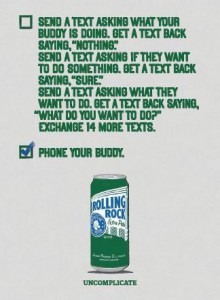 to people and they didn't respond well to it because they obviously felt that was a very American campaign," he says. "But we learned that small town values really resonate with the target of urban, young adult men. They are straight shooting, easy going people who are faced with a multitude of decisions every day. They want things they can trust, that is where the idea of 'Uncomplicate' came from."
The campaign includes OOH ads in transit shelters, interior posters on subways and buses, and a wild posting campaign in Toronto, Montreal and Vancouver, says Bascom.
"This campaign works for our target because we know they are urban, and they spend a lot of time on public transportation and live in the core," he says.
The campaign launched last week and will run until the summer. It is also supported by a sampling program in local bars, says Bascom.