Scotiabank does its part to help reduce mortgages
The brand taps into the hockey community and launches an initiative that helps to reduce the time it takes to pay off a home.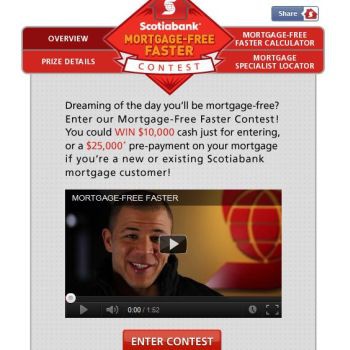 The mortgage war between Canada's major banks was ignited this week with the Bank of Montreal lowering its rates to record levels. Similar discounts were seen by TD Bank and Royal Bank of Canada in January.
In the midst of the battle, Scotiabank launched a contest that aims to look beyond rates and instead provide tools (such as a mortgage calculator) and tips on how to pay for a home in as short a period of time as possible with its "Mortgage-Free Faster" program.
Scotiabank approached Capital C with the idea to create a Facebook-housed contest that awards either a new or existing customer a grand prize of a $25,000 mortgage down payment as well as a secondary cash prize of $10,000. Canadians can enter on the Facebook page beginning this week until the end of May.
"As we head into the heart of the home buying season in Canada we really wanted to engage customers," Jeff Marshall, VP, brand & marketing management, Scotiabank tells MiC, adding that the objectives are three-fold with the brand looking to drive awareness for its "Mortgage-Free Faster" program, engage with customers using social media, as well as generate a list of potential customers to market to in the future.
Scotiabank is reaching out to Canadians in the market to purchase a home, typically in the age range of 34 to 44, and with an interest in hockey, he says.
Prior to the launch of the contest, Scotiabank awarded a Calgary customer a $25,000 pre-payment on her mortgage, which was given to her by the brand's hockey ambassador and Calgary Flames Captain, Jarome Iginla. Marshall explains that the brand wants to use the initiative as a chance to focus on the role it plays in Canadian hockey. It plans to promote the contest through its partnerships with the NHL as well as tap into a community of hockey bloggers.
The Canadian bank has a long-standing history of promoting to hockey enthusiasts, particularly with the annual hockey-fest, Scotiabank Hockey Day, its ScotiaHockey Visa and Rewards program and through its sponsorship of the NHL making it the Official Bank of the hockey league. Marshall says that this inititaive will further enable the brand to create awareness for its involvement in the sport.
The initiative will also be promoted online with a media buy to roll out in the next couple of weeks, which includes ads on YouTube videos and Google ads targeting home buyers and hockey fans.