Fountain Tire puts its owners in the spotlight
The retailer is using conventional and specialty TV channels to talk about the personal promise that store owners make to customers.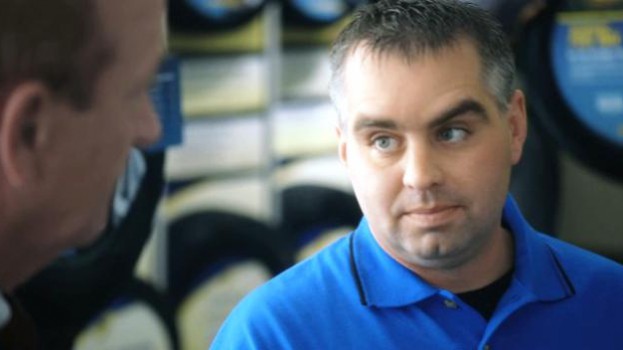 Automotive service and tire retailer Fountain Tire – which has over 140 stores in British Columbia, Alberta, Saskatchewan, Manitoba, Ontario, and the Yukon – has placed its TV spokesman, Thom Sharp, in-store to introduce store owners and talk about the personalized service they offer.
A series of commercials for the branding campaign were created and planned by Due North Communications, with agency Vizeum on the media buy. The spots began airing this week on national specialty and conventional channels (including History, Discovery, Sportsnet, TSN, CBC and CTV) and will continue to do so until early June.
Jeff Robinson, account director, Due North Communications, tells MiC that the strategy behind the media placement was to use a broad-reach solution to communicate with its target audience of adults 25-to-54, slightly skewing male, who either drive passenger vehicles or light trucks.
"Even though Fountain Tire locations are predominantly in the West and specialty television runs nationally, it's an important part of their viewing habits," he explains.  "Both specialty and conventional television were chosen as the best way to reach our target audience as together they provide strong penetration into both urban and rural markets."
The retailer has a unique business model in that it allows managers to go into a 50/50 partnership with store owners. Karen Howe, senior VP, creative director, Due North Communications explains that the ownership structure is an important component of the franchise, which is why it has been explicitly communicated in the latest installment of its "Trust. Fountain Tire" campaign.
"This campaign is all about celebrating the role of the owners. It's about a tangible, personal commitment each owner partner makes. The guys in these commercials are real owners," she says, noting that this helps the brand to communicate the type of customer service experience they will encounter when they enter a Fountain Tire store.