Quaker gives Harvest Crunch a breakfast bar
The PepsiCo brand has launched a new cereal bar with a humorous TV and OOH campaign.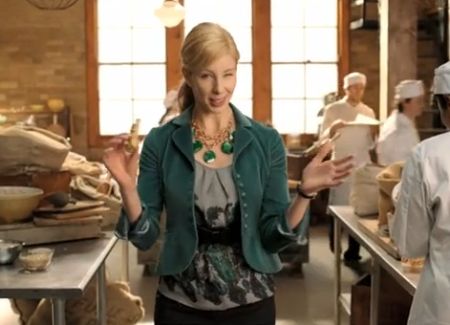 Quaker is further cementing its position in the cereal bar category, launching a Harvest Crunch breakfast bar with a TV campaign to reach a mass audience and outdoor ads to hone in on women on the go, Andy Linardatos, creative director, Juniper Park (the agency that created the campaign), tells MiC.
Insight from the Canadian market suggested that room for another breakfast bar exists, he explains, noting that Quaker looked at its major competitors, Nature Valley and Kashi, and chose to distinguish itself by using humour to promote the product.
The campaign also includes outdoor and transit posters placed in cities across Canada by OMD, with copy that reads, "Full of ancient grains and quite recent nuts and fruit."
That same light-hearted message can be seen in a TV spot for the product that launched early this week. A woman in her mid-30s (the campaign target demographic) banters with a chef about the variety of ingredients that go into each bar while taking viewers on a tour of a Harvest Crunch kitchen.
Keeping in mind that its target is looking for a healthy product that doesn't sacrifice on taste, says Linardatos, the brand chose to prominently feature the assortment of grains and nuts in each piece of the campaign creative.
"We're excited to launch Quaker Harvest Crunch Ancient Grains granola bars," said Kathryn Matheson, VP brand marketing Quaker and PepsiCo Foods Innovation at PepsiCo Foods Canada in a release. "What makes Harvest Crunch unique is that we've created a line-up of products that don't sacrifice flavour or ingredients. They're made with real fruit and nuts and other ingredients that make you feel good about eating them, and are also good for you."