Spotted! Campbell's warms hands this March Break
The food company is bringing some warmth outdoors with an OOH activation.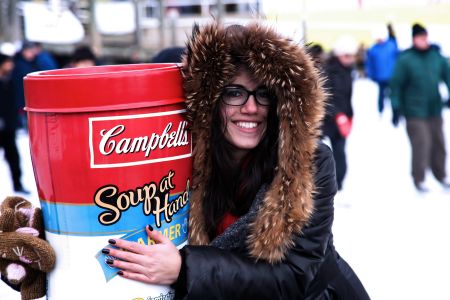 Outdoor activities during the Canadian winter can be a chilly endeavour. That's why Proximity BBDO launched a travelling tin of Campbell's Soup at Hand to bring some of the soup's warmth outdoors, John Gagne, SVP, executive creative director, Proximity tells MiC.
"The idea for the travelling cup of soup was thought up by team members Andrew Mowbray, Shiran Teitelbaum and Tracy Little," he says. "We were thinking about the Canadian winter, we come inside to get some goodness. We wanted to turn that around and bring some Campbell's warmth [outside]."
This week the giant cup of soup (which is actually warm to the touch) is visiting the Harbourfront skating rink in Toronto. It has also made stops at Mount St. Louis Moonstone in Barrie, ON. and Yonge and Bloor in Toronto. The cup was also scheduled to appear at The Toronto Zoo this week, but above normal temperatures have meant that part of the execution has been cancelled.