Invisible cars and bus shelter jukeboxes: MiC's Global Tour
Laura Gaggi from Gaggi Media and Brian Fitzpatrick from Mindshare share their thoughts on OOH campaigns from brands including Coca-Cola and Mercedes-Benz.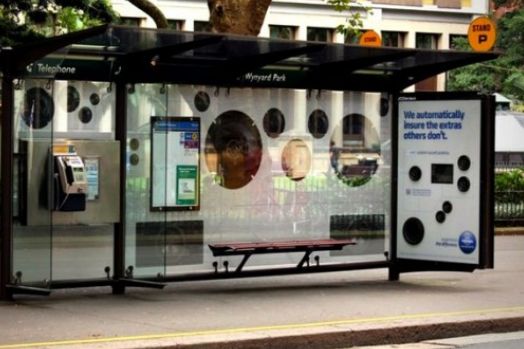 Today's edition of MiC's Global Tour features three attention-grabbing campaigns that involve the use of inflatable, mobile and even musical OOH faces.
Laura Gaggi, president, Gaggi Media, and Brian Fitzpatrick, managing director, invention, Mindshare, were asked to weigh in on executions from brands including Coca-Cola in Ecuador and Mercedes-Benz in Germany.
Germany: Mercedes-Benz hides under an invisibility cloak
If a car emits zero emissions and is as quiet as a skulking panther, is it invisible to the environment? That's pretty much the idea behind the Mercedes-Benz 0.0 emissions electric car, F-CELL. The German auto brand went as far as to camouflage one of the cars in order to give credence to its theory of the F-CELL having little impact on the environment.
For an entire week, the car was cloaked (on one side) with a matrix of LED lights that projected surrounding scenes captured by a camera (on the other side). The car travelled across the country with the message, "Invisible to the environment. F-CELL with 0.0 emissions."
Gaggi: This is a very effective and interesting way for Mercedes to deliver their zero-emissions message. The concept works better as a video execution rather than at street level where it is meant to perform. At this stage, it may be more about discovering the new technology than the brand and its message. As a media planner this technology is exciting and shows great potential to deliver impactful advertising. I would be curious as to whether it is an affordable innovation for advertisers.
Fitzpatrick: I thought this was terrific. Innovative yes, but more than that it memorably brought to life the concept of a vehicle with a low environmental footprint, in this case visually demonstrated. Plus it's quirky enough to deliver that much-chased phenomenon, social sharing. It even respects the consumer's ability to "get" the message without being bludgeoned, so a nice wink and nod [to that].
Click here to read the international story.
Ecuador: Coca-Cola gives new meaning to the Coke float
Traffic at beaches will undoubtedly increase as the days get warmer. Wanting to be right where the action is, Coca-Cola has set up some floating inflatable billboards along the beaches of Ecuador with the hopes of reaching 250,000 beach-goers. The water signs are jotted with copy that reads, "In 2012 Change the World with a Smile" and feature crunched bottle caps in the form of a smile.
Gaggi: I had a tough time with this one and couldn't stop thinking about being the poor consumer exposed to this amphibious billboard while enjoying a day at the beach. It's good to be intrusive in advertising, but this execution is intrusive to the point of being offensive. It is not very interesting. I really can't find anything redeeming to say about this execution as a media professional either. There is nothing innovative about it and I don't think it puts the brand in a positive light despite the attempted "smiley" creative execution. I would be looking for a Pepsi if I was thirsty.
Fitzpatrick: I thought that this was essentially a conventional media approach, but a bit of a miss. The media mantra is the "right message in the right place at the right time." Plunking down a sign in front of what is presumably a nice view without adding value to the consumer is not really delivering the full promise of outdoor. If there had been some kind of entertainment or interactive element [such as] rating lifeguards through SMS texting to a real time polling display, [then] it might have risen to noteworthy status – overall a missed opportunity.
Click here to read the international story.
Australia: NRMA Insurance turns a bus shelter into a jukebox
The Sydney insurance company, which specializes in travel and motoring services, recently transformed a simple bus shelter into a full-blown, interactive jukebox. To pass the time while waiting for their transport, commuters could choose a song to play by scanning one of the QR codes found on the creative. They also invited visitors to "like" the brand's Facebook page and choose a song from its app.
The scheme was to illustrate the insurance company's policy that covers all of the extra features, such as custom sound systems, that make you more comfortable in your car.
Gaggi: I love this concept because insurance is one of the lowest interest categories, and by being interactive, this is a very smart way to excite the consumer and deliver the extra features coverage messaging. It has great potential for advertisers who would benefit from this innovative audio format. I do question whether is it reaching the right target via a bus shelter and I cringe just a little when a consumer is asked to go to Facebook first to download the tune. Am I asking too much to want to skip this step?
Fitzpatrick: I very much liked the overall idea of customizing song selection as an expression of how this company can customize insurance.  But there were executional flaws that took away from fully exploiting the concept. Picking your own song covers choice but in the real world consumers would see this as a tenuous link to customization. For example they could have had a digital display unit that interactively allowed people to build their ideal insurance salesperson or car (you can just imagine where this might go!).  And the mechanism to participate has Rube Goldberg overtones, requiring "liking" NRMA's Facebook page, downloading a mobile app, and then seeking out this one shelter to scan a QR code. In the age of mobile, commoditized, instantly at-hand music, the potential appeal suffers. Nice concept but executional disappointing.
Click here to read the international story.
Photo: PSFK