Best New Product Awards tap into NFC
The CPG awards program is the first in market to use Newad and Astral OOH's Near Field Communication (NFC) tech.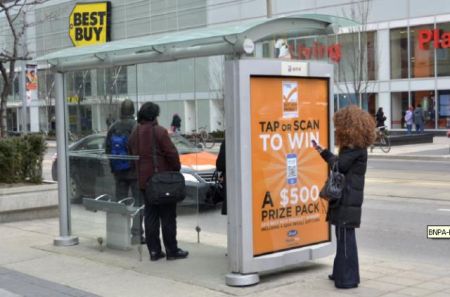 Best New Product Awards (BNPAs) is testing out Newad and Astral OOH's newly installed NFC faces for an awareness campaign that also includes ads in print, on TV and online.
The CPG awards program, a BrandSpark initiative in association with Transcontinental-published magazine Canadian Living, interviews 53,000 consumers each year to select the best and most innovative products to be displayed on Bestnewproducts.ca.
The Astral transit shelter boards invite NFC-enabled phone users to tap (or scan with a QR code reader) in order to enter a contest for a prize pack filled with 2012 winning products from the BNPAs as well as a Rexall gift card, whereas the Newad-placed ads direct viewers to the website to find out more about the different products.
The street-level OOH is meant to reach a broad shopper demographic, Robert Levy, president, BrandSpark, tells MiC, and by tapping into the Newad network in restaurants such as Boston Pizza and The Madison pub as well as university campuses and gyms, the organization hopes to target a group that tends to "skew younger, more educated, more affluent and urban."
Levy says that Newad used its TARGET database (which allows clients to target consumers based on their lifestyle, consumption habits and demo) to identify locations, such as universities and colleges, that will help BNPAs to reach a youth audience, with a typically higher adoption rate of both technology and smartphones.
In conjunction with the "Tap or Scan to Win" campaign, the BNPAs has also partnered with Shaw Media to place closed-caption ads on channels such as Global, Food Network, HGTV, Slice and History Television. There is also a print component in the mix, with spreads in Canadian Living and Coup de Pouce, as well as in Metro.
All of the creative and placement was handled by the in-house teams at Newad, Astral OOH and Shaw Media, says Levy.