KFC consumers get more than a bucket
The QSR is offering more variety, and a more varied media buy, with a new Family Dinner Box.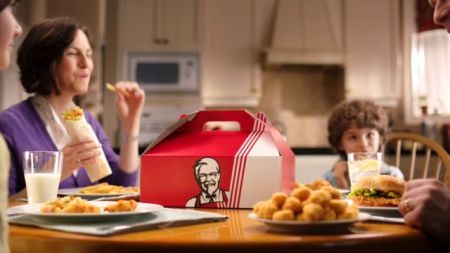 KFC's iconic bucket now comes in a customizable box, with families being able to pick and choose from a variety of the QSR's menu offerings.
The new Family Dinner Box is said to be the first alternative to the KFC bucket in more than 50 years, and to mark the occasion, the brand has rolled out a campaign with a national TV and online buy, as well as a regional radio buy.
Media was handled by Yum! Restaurants' (which owns the KFC brand) media agency of record MediaCom, and developed by its creative agency of record, Grip Limited.
Radio is a fairly untapped medium for the brand, Tatiana Carrascal, senior marketing director, KFC Canada, tells MiC, having only seen a combination of TV and online in past promotional plans.
It's all part of the QSR's strategy to see where it can shift its marketing dollars, with Carrascal saying that "we felt [that Atlantic Canada and Alberta are] good places to test radio as a third incremental layer of media."
"We don't traditionally do more than two, but as a part of our overall investment in media we are testing different media vehicles that we haven't used in the past," she says.
The campaign launched this week and will be in market for the next six weeks with ads that list the different offerings of the box and the brand's established tagline, "So Good."
Carrascal notes that KFC is still aiming at its target audience of families in search of a quick and easy meal, and that the brand has come to see that many of its customers are looking for variety.
"The need to satisfy individual taste is growing [and the box] is all about how you no longer have to go to four different places to get everyone's favourite."
To see the TV commercial for the new Family Dinner Box, visit KFC.ca.