Spotted! Pedigree helps with the scoop
The pet food co gets literal, giving away plastic bags on an OOH ad created for Astral's Carte Blanche contest.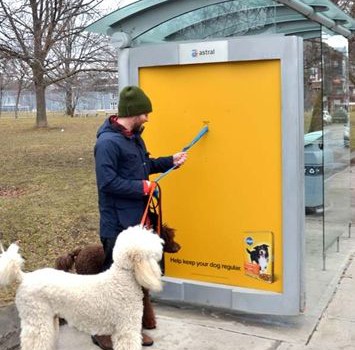 Copywriter Shiran Teitelbaum and art director Rebecca Dunnet, both at Proximity Canada, came up with the idea to promote Pedigree's new Pedigree Chicken & Rice+ Dry Food after brainstorming how to communicate the idea of healthy dog digestion in a fun and clever way.
The result is the 2011 Astral OOH Carte Blanche-award winning OOH ad, running throughout March in Toronto's Trinity Bellwoods park, which features removable plastic bags to keep the park clean.
"The idea for the ad came from hours and hours of brainstorming," says Teitelbaum. "The insight came from how the food has prebiotics, and what the outcome of that might be."
Above normal temperatures have meant plastic bags in the ad have had to be restocked more often than planned, going from replacing the bags every four days to every other day, says Teitelbaum.
Entries for the 2012 edition of Astral OOH's Carte Blanche contest are now open. Winners of the competition get a transit campaign on a Astral OOH face, and a trip to the Cannes Festival of Creativity. For more details, visit Carteblancheforcreatives.ca.