Molson Coors remembers 92 years of the Stanley Cup
The brewing co has placed NHL commemorative cards inside the packaging of three of its brands and supported the initiative with TV and a Facebook app.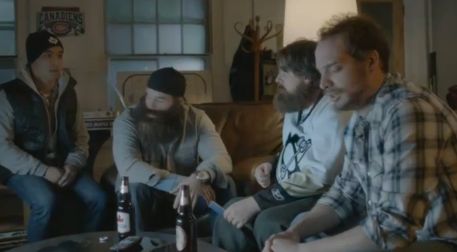 Molson Coors is gearing up for the NHL Playoffs with a program that brings back memories of Stanley Cup wins of the past.
The brewing company has placed "Stanley Cup Collection" cards within specially-marked cases of Molson Canadian, Molson Export and Coors Light. Each card is a tribute to one of the 92 trophies that have been awarded to the winning teams over the years.
Molson Coors went further by featuring NHL branding on the beer cans, which the company claims to be the first time that the hockey league has allowed an image of the Stanley Cup to be featured on packaging.
The Draftfcb-created program is not limited to in-store activation though. Molson Coors has also launched a Facebook app, dubbed the "Molson Trading Centre" in both French and English, allowing users to connect and trade with other fans. The page acts as a hub for consumers to check in with other collectors, log in (by punching in the card's unique pin) and organize their cards and build a strong enough "Stanley Cup Collection" to qualify to win prizes.
Reid Black, brand manager, Molson Canadian, tells MiC that the decision to include all three beer brands was intentional. Not all hockey fans are going to favour one single brand or style of beer, he notes.
"Our research shows us that consumers have a circle of brands that they choose regularly, and this type of approach increases our ability to keep them choosing brands within our portfolio," says Black.
The strategy executed in retail has also been extended online, where each brand will have its own Facebook Molson Trading Centre app, allowing each to create a community and converse (in their own way) with all three types of consumers, he adds.
On March 26, Molson Coors will also have presence on-air with three TV spots, planned by MediaEdge and developed by Draftfcb, airing on major networks such as TSN and RDS for the first two rounds of the playoffs, says Black. In addition, there will also be ads placed on sports sites in Canada.