Greenpeace takes a jab at fashion brands
Terry Horton from Cossette Media weighs in with his thoughts on the latest international OOH campaign from the organization.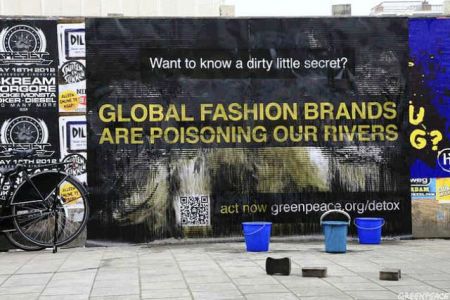 Greenpeace is stirring the pot again with an ambient "Detox" stunt organizationally pointing its finger at global fashion brands that use hazardous chemicals in products.
Designed to mark World Water Day, activists from Greenpeace put up posters (covered in a special non-toxic ink) in European and Asian cities most affected by water pollution.
Over the course of the day, pedestrians would take part in washing the ink away to reveal a "dirty little secret". Once all of the ink was sponged down, copy, in the language of the country, read: "Global fashion brands are poisoning our rivers." Along with the url address to the Greenpeace website, a large QR code was placed on the boards so passersby could find out more information.
The idea for the stunt was born out of the environmental problem itself, Tommy Crawford, strategist and communications manager, Greenpeace tells MiC. The dripping paint portrays the hazardous chemicals used by some major fashion brands in their production process, he says.
"We use a variety of mediums to communicate our messages, from videos and online petitions, to flash mobs, actions, mannequins and other ambient media," he says of the organization's previous campaigns that seek to communicate in a uniquely creative way. "One of the advantages of this activity was that in addition to all of the people who saw and interacted with the posters, we were also able to package the activity up into a web-video to enable thousands more people to see it, share it and help spread the message."
MiC asked Terry Horton, VP, media director, Cossette Media for his thoughts on whether or not the performance was effective enough for consumers to take action and brands to take notice, as well as if there was anything that he would do differently.
"The video was the bigger point of the exercise," he said. "Only a few people will be exposed to the actual post and reveal part of the outdoor poster campaign but many can be exposed to the video which makes the political point of view accessible to many in many different languages via the social sphere.
"To date the link has received only 12,000 views. In the coming days we will see if this particular idea gains traction. Overall this can be a very powerful media strategy. It relies heavily on the strength of the idea being captured in the video – [but] will people be motivated to pass it along or will the 'social curators' elevate its profile? Based on this argument, the question about the Greenpeace case becomes a creative one much more than a media one. Think of the Volkswagen 'Fun Theory.' Very few people were part of the passive interactions set about locally, but millions of people shared the experience/idea online."