Rogers gets chatty with Hedley
The telco has partnered with the Canadian band to target a youth audience with a contest that flaunts its One Number service.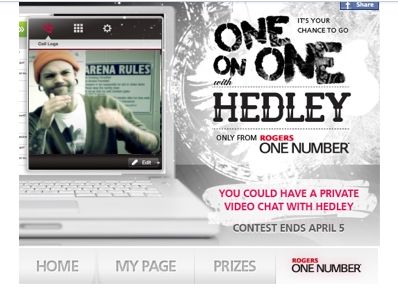 If youth is your target, then using the star power of the band Hedley is likely a good route to take.
Rogers can attest to that, having recently launched a contest that rewards one of its customers with some phone time with the Canadian group. To boot, the ten-minute call will be made using Rogers' recently launched One Number platform.
The contest has been dubbed "One on One with Hedley" and incorporates creative from Publicis and planning by OMD. In keeping with what the service offers customers (the ability to sync a mobile phone number with a PC to send texts and receive calls), the brand placed a series of online display ads on music and youth targeted sites such as MTV, Grooveshark and YouTube.
When One Number launched last month, Tess Van Thielen, director of wireless project management, Rogers Communications, told MiC that the service is pertinent to a youth audience. Her reasoning behind tweens being excited about the service is that they won't need to switch between mobile and PC to keep in touch – they can send texts and make calls while doing other things on the computer.
Jenny Thompson , director, social media, digital & customer base management, Rogers Communications, says that the telco's strategy with this particular campaign is to create an immersive digital and social media experience that connects youth, aged 14-to-25, with their passion for music.
"We wanted to show our target that Rogers One Number can bring them closer to the things they love in ways they never thought possible," she says of the contest that will give the winner access to a one-on-one session with the band as well as a live performance, with the group serenading the winner with their latest single.
A Rogers team will make a trip to the winner's home (or a separate location depending on the contestant) in order to set up to film during the call. Another crew will document Hedley in their rehearsal studio prior to and during the call. After which, the video clips will be uploaded to Rogers' Facebook and YouTube pages and distributed to a select group of bloggers, says Thompson.
Contestants are only eligible to enter if they are registered for the One Number service, and they can do so on the brand's Facebook page until April 5.