PFLAG tells its stories on radio
The non-profit is using Shazam (an app used to identify music) to engage with radio listeners in the same way it has done with QR codes.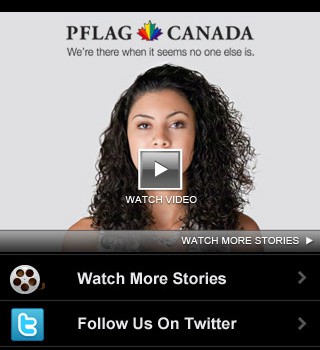 Radio might get a bit of a bad rap for being a single-sensory medium, but curiously enough, it's this precise trait that is going to make the next phase of the PFLAG (Parents, Families and Friends of Lesbians and Gays) "Stories" campaign stick out, Robin Heisey, CCO, Draftfcb (the agency that worked on the campaign) tells MiC.
This week the non-profit organization released a radio spot with the help of Shazam, an application service that allows users to identify music by using their mobile phone's built-in mic. The most common use of the app is to track melodies, not spoken words, however this is just what the organization is hoping radio listeners will use it for.
When the 60-second spot airs on Toronto's ProudFM, the voiceover invites Shazam app users to track what is being said at that exact moment so they can hear the end of a poignant anecdote told by a member of the LGBT community. After one minute, when the story abruptly ends, the user is then transferred to a mobile site to hear the conclusion.
This is the first time that Shazam has been used as an aid in storytelling, with its app leading listeners to learn more through video on a mobile site, notes Heisey.
The radio component follows the format of the TV and print elements, launched last year in August, that gave intimate accounts of experiences from both celebrities and the LGBT community, only to have them cut off with a QR code.
From the get-go, says Heisey, the campaign has been QR-code based and the organization needed to find a way to translate the mystery element, which motivates people to learn more, onto radio.
"People have said that this is the most powerful thing in the campaign. They've described it as almost spooky," he explains. "The technology is a little more novel, but the drama of the person speaking about intimate things on the radio and then cutting off in the middle, where you don't know what's happened and you can't see them, gives you more than what you can get from TV."
That being said, the broadcast element has been a success in its own right with Heisey explaining that the organization has received thousands of scans since the campaign launched. This is an indication, he adds, that people are actually taking the time to pause (if they can) what they're watching and scan the QR code.