Mazda's new campaign has retro roots
The car co references '70s TV classic The Six Million Dollar Man to launch its 2013 Mazda CX-5.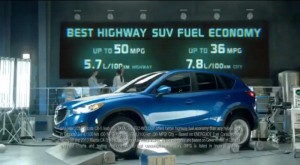 Mazda Canada is reaching into the past to launch its new 2013 Mazda CX-5 compact crossover SUV.
The car co has likened what its Skyactiv Technology has done to the crossover SUV to what technology did to Steve Austin in the '70s show The Six Million Dollar Man in a campaign created with JWT, with media from Excelerator Media.
Using the same style of voiceover as the one in the show, the "We Have the Technology" 30-second spot details the tech used in the new car. A second TV spot focusing on key individual attributes of the CX-5 will launch in the coming weeks.
"The spot was born out of Mazda's Skyactiv Technology," says Neil MacLellan, VP, management director at JWT. "As we got into the idea that only Mazda has the technology, it took us to the Six Million Dollar Man concept. We saw it as the perfect creative platform to tell our story. The marriage of the two worked well to tell [about] the technology in a highly engaged manner."
The campaign will also launch cinema, print and digital ads this Monday, with a media mix designed to reach the car's target market – educated people in their 30s with higher incomes – wherever they are, not just in front of the TV, says MacLellan. The spots will run through the spring into early summer.